In this article we will go over all of the cool AI features within Rhombus:
Features
Color Search
Color Search allows users to search video for specific clothing and vehicle colors, making it easier to pinpoint specific people or vehicles without scrubbing through hours of footage.
This helps streamline looking for specific footage when you typically only remember a few key details, one of those details being color. With Color Search, and the other Rhombus search tools, including Event Thumbnails and Region Search, you can find highly specific footage in only a few clicks.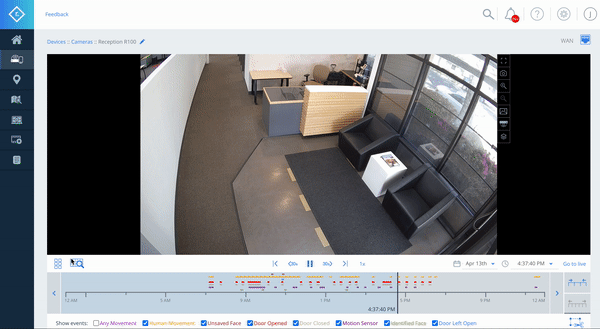 To see an example of how to enable this feature scroll down to the Enabling Features section below.
Face Recognition
This feature allows the camera to detect faces that pass by the camera. It depends a lot on the camera mount, and how much detail can be seen of a person. General rule of thumb is that "if the face is not human distinguishable, then it isn't going to be recognized by the camera". The way that face recognition works is the camera first identifies a human, takes a screen shot of the human, and then searches the cropped image for a face. To learn more about managing this feature visit Managing Facial Recognition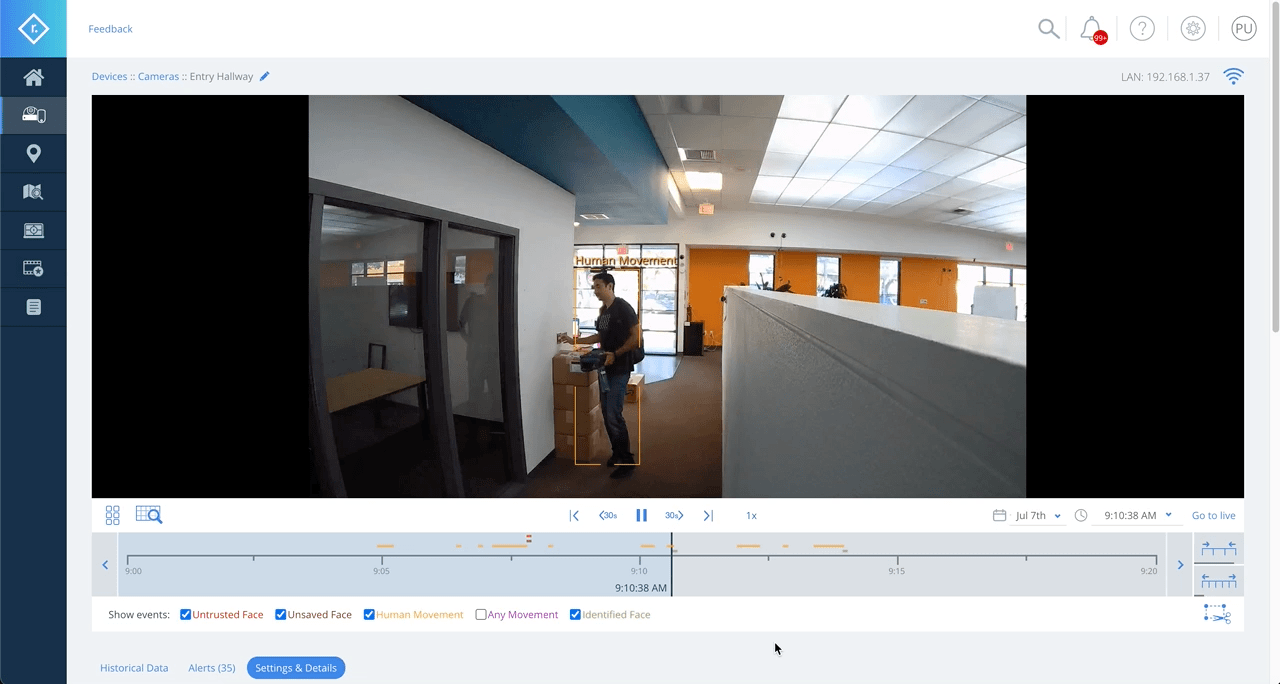 License Plate Recognition (LPR)
This feature provides the capability to recognize license plates as they pass through the field of view, and log the plate into the console. Like face recognition, it is dependent on which camera and the mounting location. General rule of thumb is that "if the vehicle is not human distinguishable, then it isn't going to be recognized by the camera". The way that LPR works is the camera first identifies a vehicle, takes a screen shot of the vehicle, and then searches the cropped image for a plate. To learn more about LPR check out our other article Managing License Plate Recognition

People Counting
This feature is great for knowing how many people are seen by the camera. Knowing how many people pass by is useful for situations like making sure a space is completely empty, tracking number of employees coming into the office, and so on. To learn more about the different types of people counting check out this article.

PPE Detection
Lack of Personal Protection Equipment (masks and helmets), PPE for short, can be detected using Rhombus cameras as well. Like Face Recognition and LPR, the success of this feature is heavily reliant on placement and type of camera. To learn more about PPE detection check out our PPE detection article.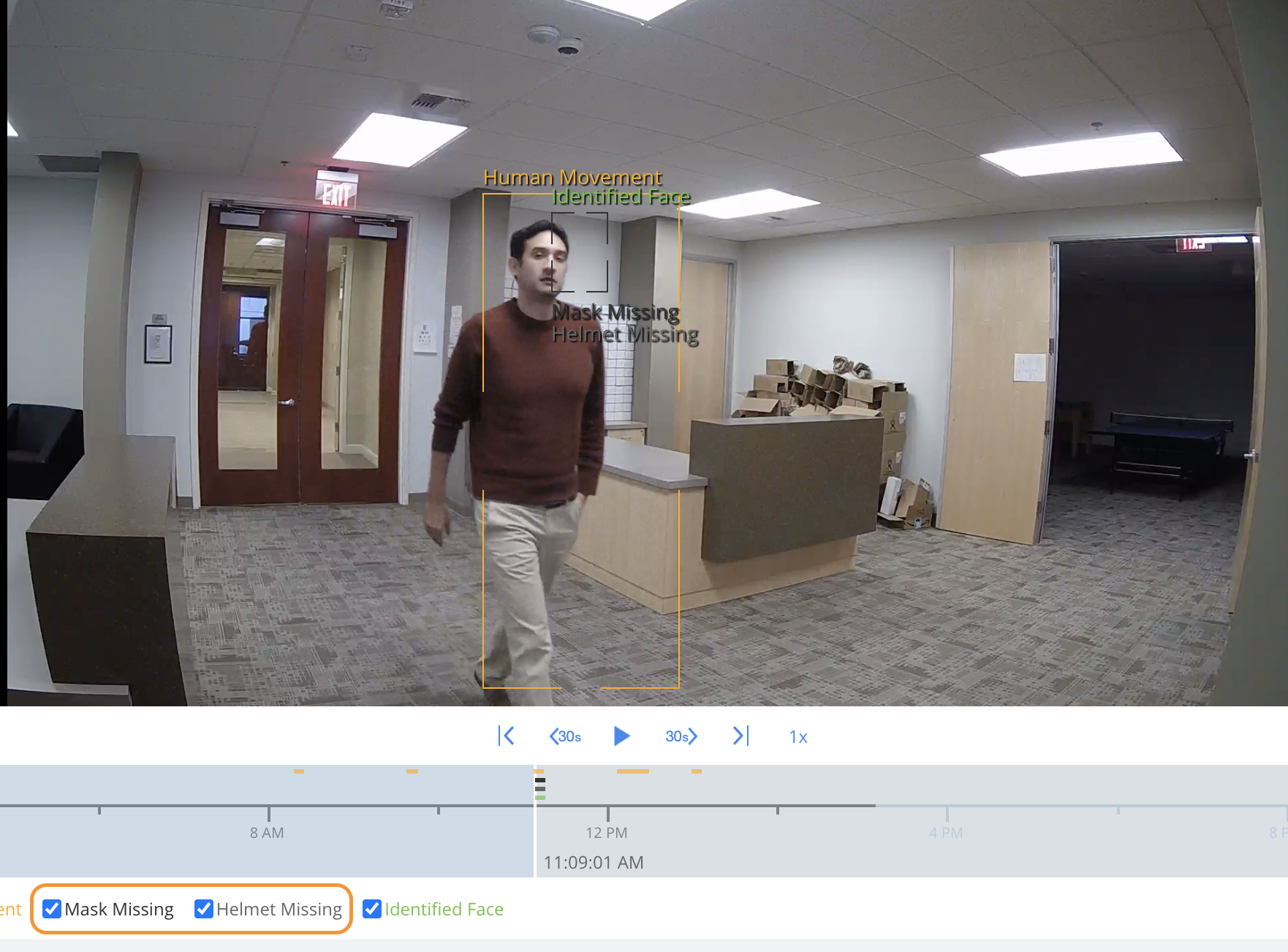 Unusual Behavior Detection
Rhombus cameras can be used to detect unusual behavior which is useful for emergency situations. For example, if you wanted to monitor the well being of an elderly person, you could used this to detect if they fall down and need immediate help. To learn more about setting up this feature take a look at our configuration article.
Vehicle Counting
The vehicle counting feature is useful when tracking the amount of vehicle traffic is a need. Like most other features the success is determined by placement and type of camera. For example, the GIF in the LPR section above is an R500 aimed at our HQ south entry way so that the camera can easily pick up vehicle movement.

At the bottom of the chart are buttons you can toggle to see or not see vehicle counting data pertaining to cameras with this feature enabled.
Visual Tamper Detection
This feature is extremely useful for detecting when the camera has been visually tampered with, like when someone covers the dome with spray paint. The way this feature works is it will use the full view of the camera window as a reference and when it becomes "covered" the system will flag and mark the detection time. All of our Rhombus Cameras have the ability for visual temper detection.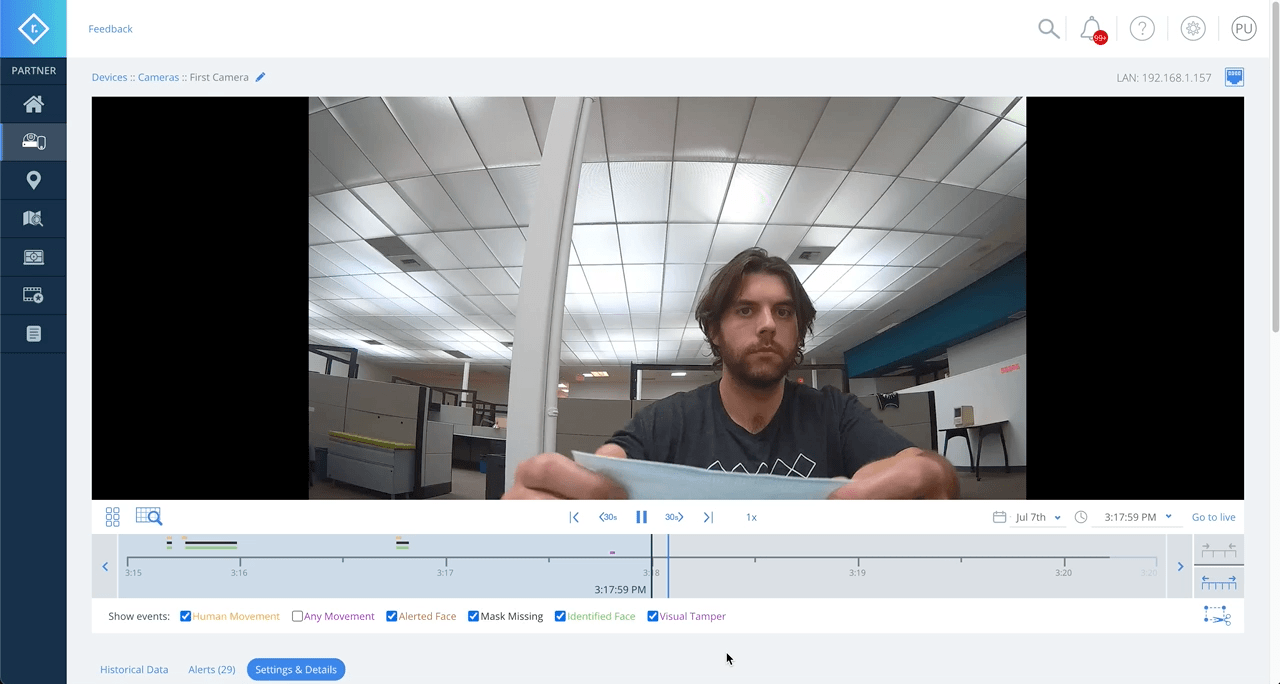 Included Cloud Archiving
This feature comes with the enterprise licensing and gives you the ability to back up 30 days of footage to the cloud automatically.
Additional Cloud Archiving
This feature allows you to back up a certain number of days (30, 60, 90, 180, and beyond) and can be purchased independently of the enterprise license. To enable the licenses click the blue manage button (below) which is located at the top of the License and Features page. Then you will be able to assign the licenses to the cameras.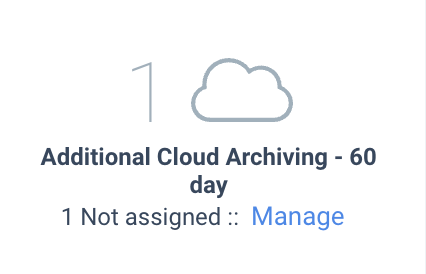 Timelapse
This feature allows you to start creating a timelapse from a cameras recording. This can be made from the time the feature was enabled. Please see here for how to create one.
Bandwidth
Low means that not much bandwidth is being used for these features.
Medium means that the amount of bandwidth used is more noticeable than low features, but less expensive than computationally intensive features.
High means that the feature is very computationally expensive, and requires a lot of bandwidth to complete.
Below is the chart with Feature and Storage bandwidth usage: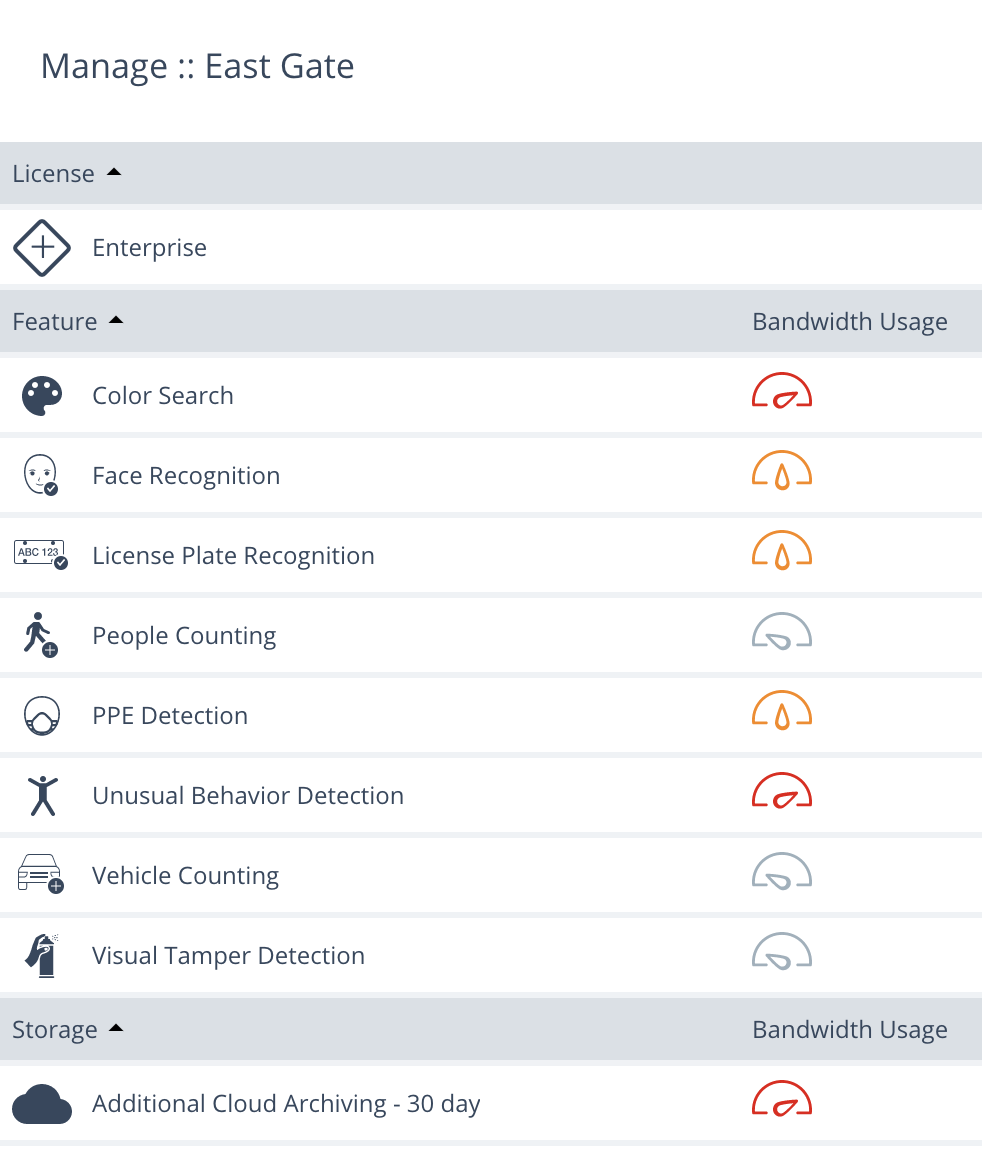 These symbols are set based on how much bandwidth a feature "normally" uses. It depends a lot on the setup (camera placement, max bitrate, resolution, etc.). For example, if a camera has face recognition enabled and is placed in a low traffic area, the amount of bandwidth that would be used will be low rather than medium noted in the above table. However, taking the same example, if you wanted to be alerted when an unknown face is captured, then a clip will be uploaded and you would be notified every time an unidentified face has been seen. This would increase the bandwidth used by the face recognition feature. To dive more into bandwidth check out our Camera Bandwidth article.
Disclaimer
When multiple high-bandwidth features are enabled in conjunction with cloud archiving your bandwidth may be exceeded. Looking at this section of our Camera Bandwidth article you can find approximately how much bandwidth is used during streaming. If you are streaming 3 cameras all with color search enabled, and only have 5 Mbps upload, that could eat up most of your bandwidth.
Enabling Enterprise Licenses
To enable Enterprise Licenses on multiple cameras at once, navigate to License & Features and. within the License Summary section, click on the blue 'Manage' button seen below: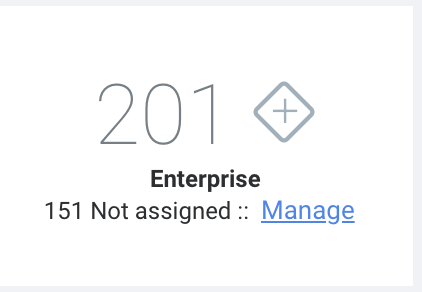 Once this popup appears, you can then select cameras to be applied for this license by location or one by one by clicking the check boxes on the right side: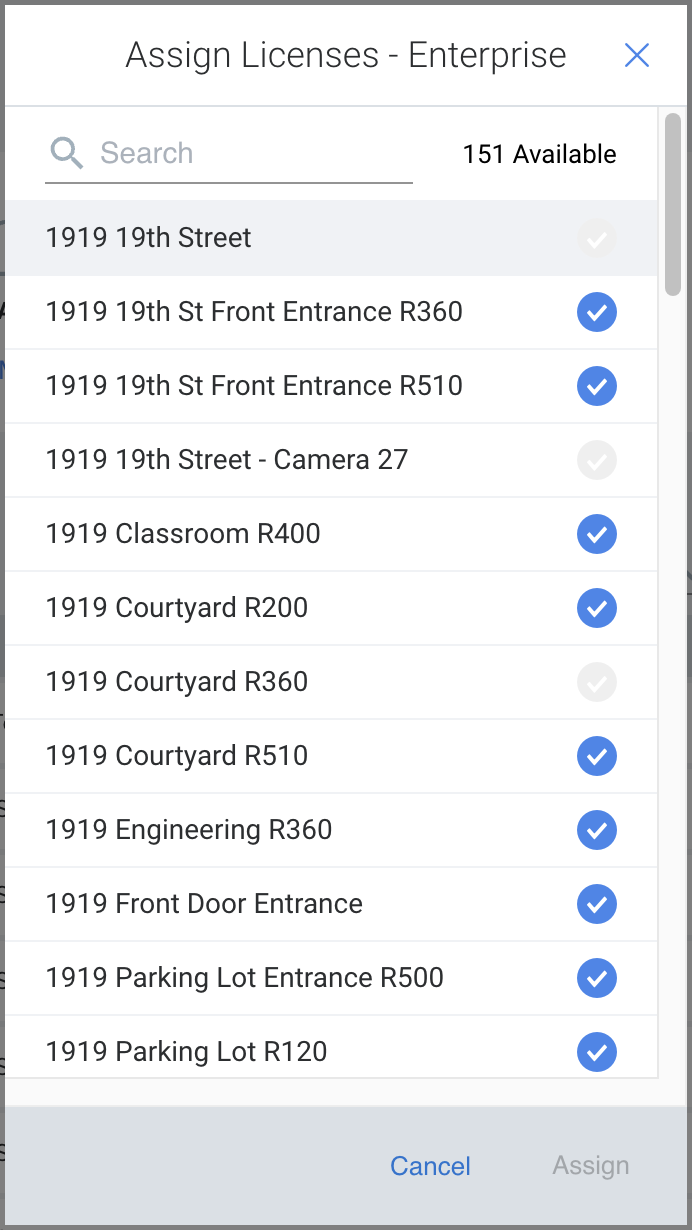 When done click the 'Assign' button to complete the enterprise assignment process!
Enabling Features
The way to enable features is by going to Settings -> Licenses & Features -> Manage which is represented by the emoticons below:





Each camera will have a 'Manage' button on the far right of the table under the 'Action' column. When you click 'Manage', you will then see a popup where you can enable features (pictured below).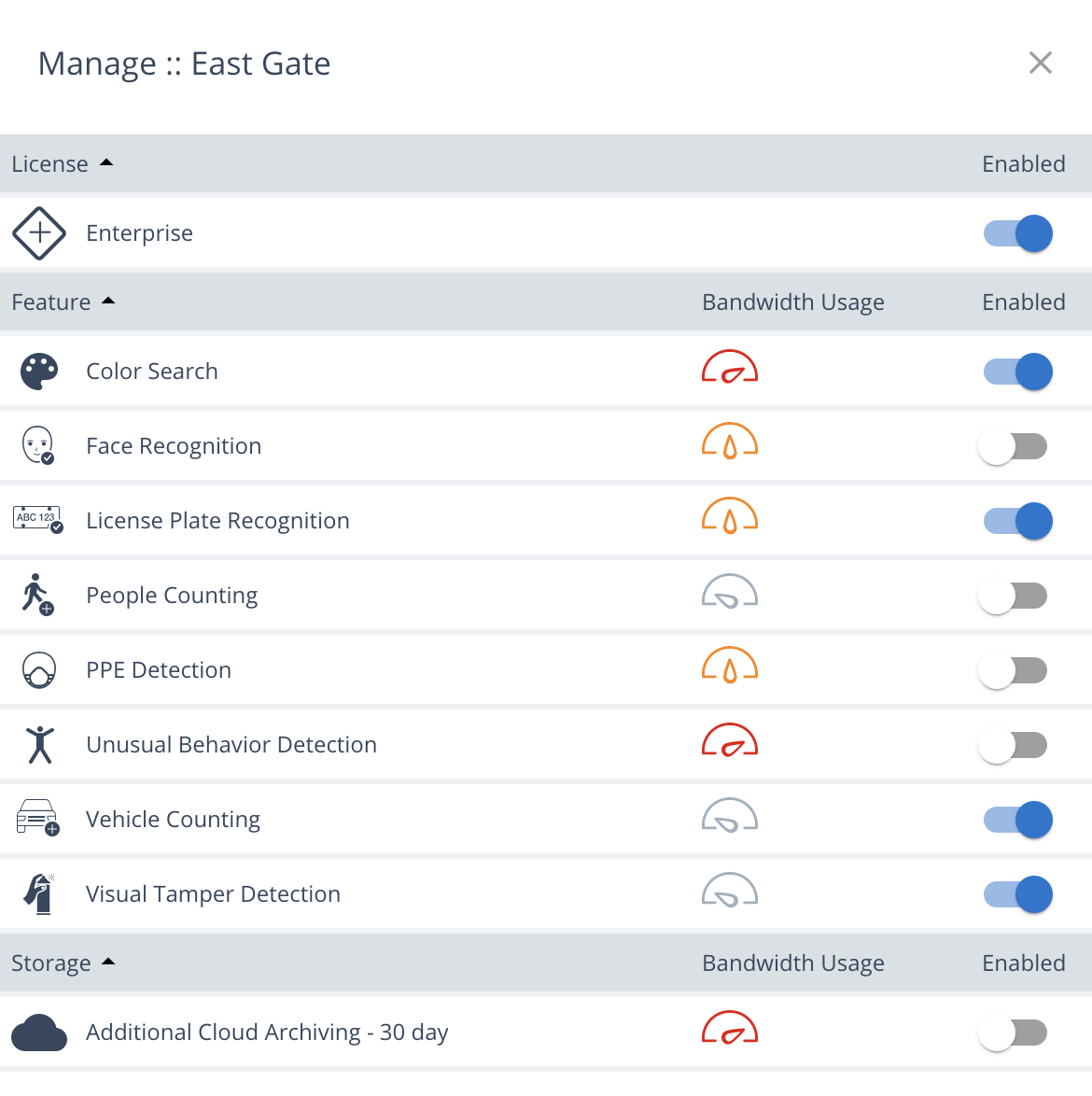 To enable a feature, click the slide bar on the right under the 'Enable' header and hit 'Save' at the bottom of the window.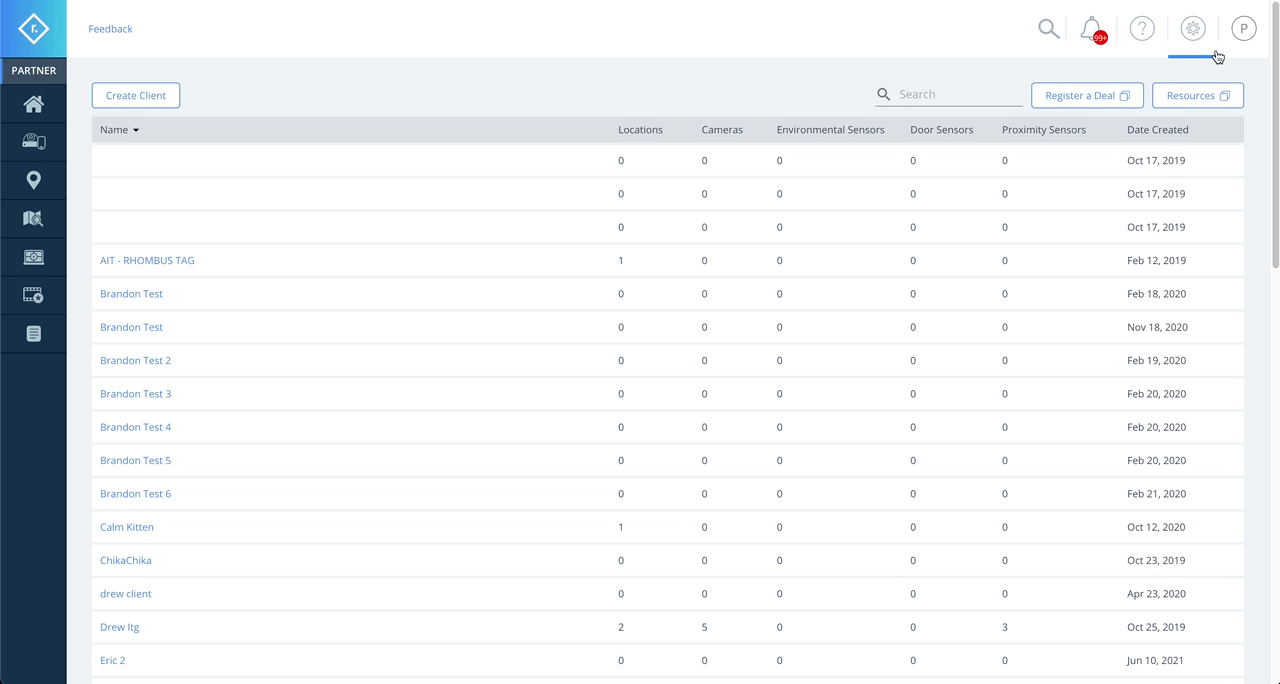 From this view you can also enable features in a batch way. To do this select cameras with the same license assigned to them (Enterprise or Professional) via the check boxes on the left side (below)

Once you do this you will see the "Batch Assign" button light up blue (below).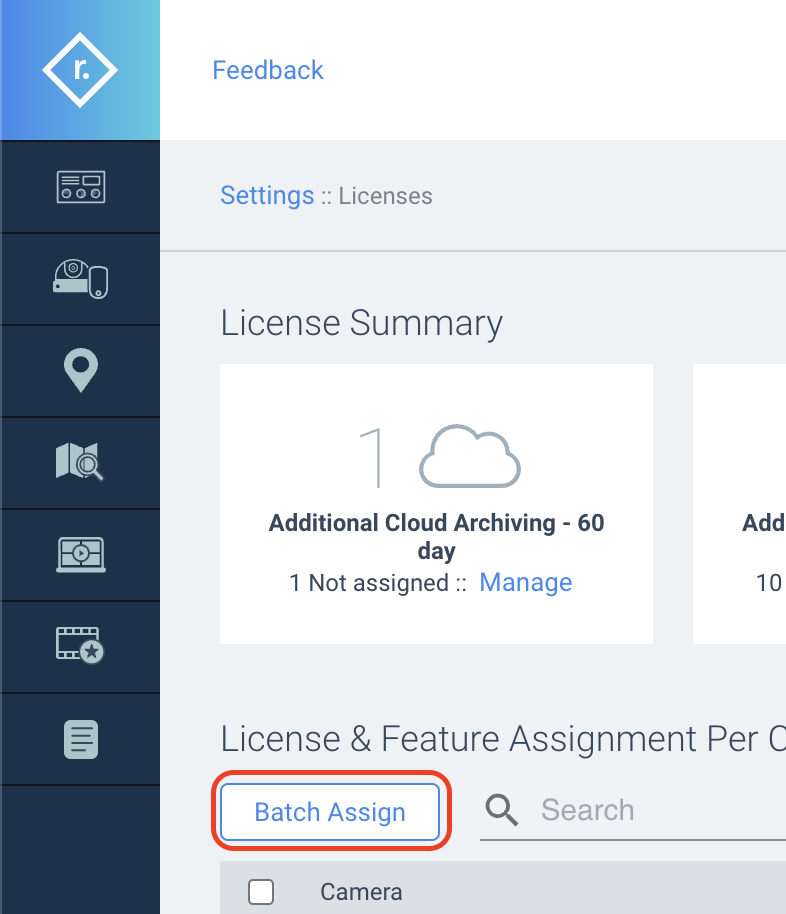 Click this button and a popup modal will appear where you can choose to enable or disable features in a batch way: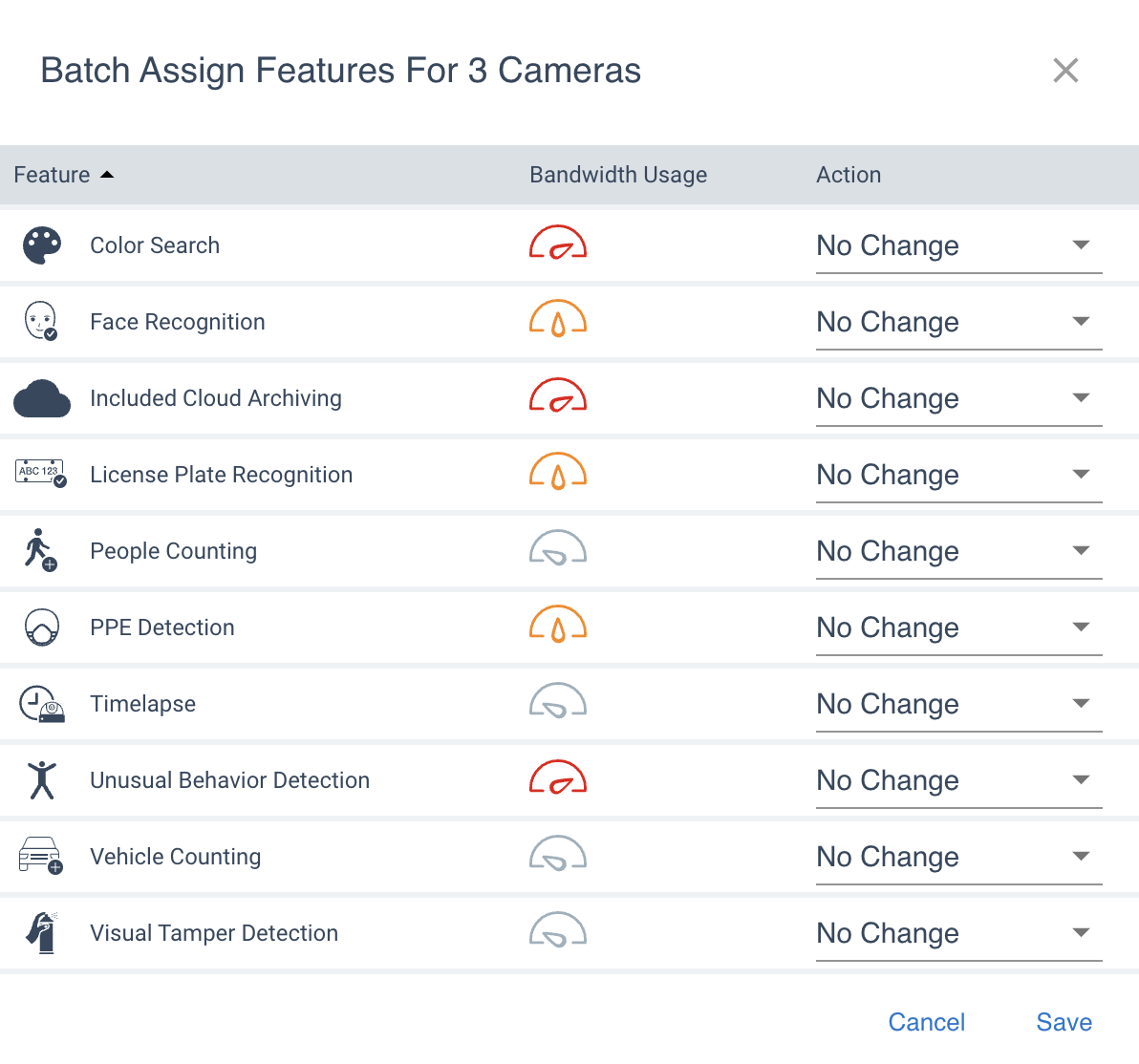 Additionally, you can add features by going to Devices -> Camera of Interest -> Manage Features (bottom of camera feed page)





Here is an example of how to add color search to a camera: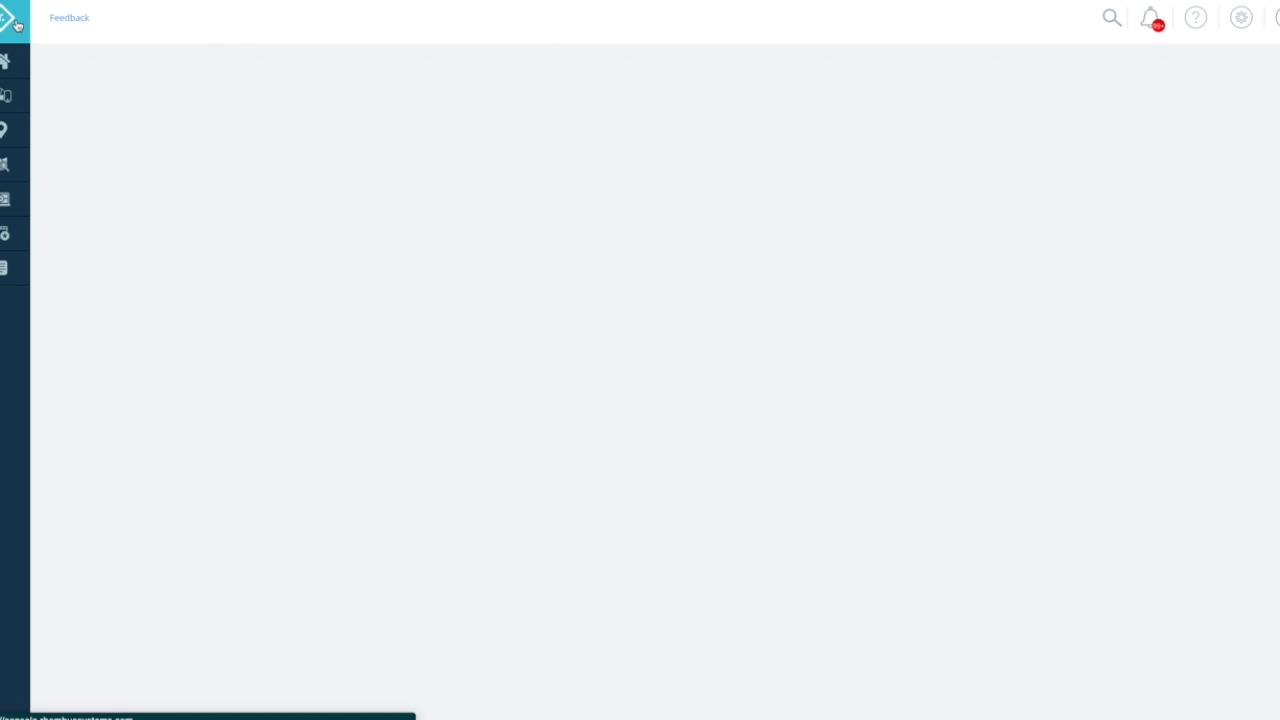 Licenses
To see which features fall under the Professional or Enterprise license check out our pricing chart
Have more questions? Contact Rhombus Support at +1 (877) 746-6797 option 2 or support@rhombus.com.
Interested in learning more? Contact Rhombus Sales at +1 (877) 746-6797 option 1 or sales@rhombus.com.