This article will discuss exporting specific AI features information, logs, and reports.
What can be exported for the Rhombus console?
Below is a list of information that can be exported from the Rhombus console in a '.csv' format. You can export reports from the Dashboard, Devices, Investigations, and Logs & Reports tab within the Rhombus console. The list below will display what information can be exported.
Dashboard: People Counting (Estimated Total Visitors, Estimated Unique Visitors, Motion Events), Vehicle Counting, Alert Trends, and Bandwidth (Download, Upload)
Devices: Environmental Sensor (Temperature, Probe Temperature, Humidity, IAQ, Vape/Smoke, Ethanol, CO2, TVOC, PM 2.5), Door Sensor, Motion Sensor
Investigations: Faces, License Plates
Logs & Reports: Audit Logs, Diagnostic Logs, Device Inventory, Camera up/downtime, Bandwidth (Upload & Download)
How to export reports
Below we will go over where to find the export option for the four sections (Dashboard, Investigations Tab, Devices, and Logs & Reports). All reports will be exported in '.csv.' The export option will always be in the upper right corner of the information. Examples below.

Example 1: Logs & Reports - Diagnostic Logs

Example 2: Devices - Environmental Sensors - Temperature

Please look for the export symbol below: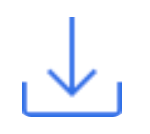 Helpful Links
Have more questions? Contact Rhombus Support at +1 (877) 746-6797 option 2 or support@rhombus.com.
Interested in learning more? Contact Rhombus Sales at +1 (877) 746-6797 option 1 or sales@rhombus.com.