In this article, we will go over how to setup and mount the R230 camera.
Prerequisites
Before you can register a Rhombus camera, you will need the following:
Rhombus console user account
Mobile phone


with the Rhombus Systems app installed and logged in

R230 camera
Connecting the Camera
The camera needs power and a network connection to be registered. The easiest method to achieve this is to connect it to a PoE compliant network device such as a switch or firewall, or using a PoE injector plus Wi-Fi.
A solar powered cellular setup is also possible for remote deployments. Please take a look at this article for specifics.

Below are notes around connecting the camera:
If powered by a PoE injector, the injector should be appropriately grounded
The product will be installed indoors without exposure to water or moisture
This product can also be connected to a Wi-Fi network but a PoE injector is needed for power

Please get in touch with Rhombus-certified dealers for power adapters
Mounting on a Wall or Ceiling
Below are the steps for mounting the camera on a wall or ceiling
Open dome by unscrewing two housing screws with the hex key provided in the box
Use two included round head self-tapping screws to mount base to surface
Use two included anchors when mounting to softer materials
Replace dome and tighten two housing screws with Philips driver
Aiming the lens
The lens can be vertically maneuvered around 180 degrees and the lens rotated around 90 degrees. Below is a video demonstrating this:
Registration Methods
Once you have powered and connected your new camera (instructions to wire a camera), registering is fast and simple. Make sure that the camera has the correct LED status that indicates it's ready to be registered. A full explanation of all LED statuses can be found here.
You can register a camera either from a mobile app (download links below) or via the web.
Mobile App
Log in to the app and click "Register Devices" from the home screen. That will launch the registration wizard which will guide you step by step through the registration process.
Select "Register via Bluetooth"


Note: You can register more than one R230 at once via Bluetooth. It's recommended that you register at least one Bluetooth-enabled camera before you register a sensor device like the M1, E1, or D1.

Add the location you want to assign the R230 to.


Note: If you haven't already, you'll need to add a location first either during this wizard, or you can go to the Locations tab and choose "Add Location".

You can read more about Managing Locations here.
Register devices. Toggle the nearby devices you want to register.
Select the camera connection type. [Ethernet or Wi-Fi] If you are using the R230's Wi-Fi feature, you will need to enter the Wi-Fi credentials for the camera to operate correctly.


Note: These credentials are case sensitive!

Select the IP configuration by toggling on DHCP.
Wait for the app to finish the registration process. Once complete, the camera will be added to the console to the location you specified in step 3.
| | | |
| --- | --- | --- |
| | | |
| Step 2 | Step 3 | Step 4 |
| | | |
| Step 5 | Step 6 | Step 7 |
If for some reason it doesn't get to solid blue, then it could be there is a network issue. Try unplugging the camera and going through the above steps again. Or, try plugging a laptop using the same Ethernet cable to ensure it can connect to the internet.
If for some reason it still doesn't work and you're using Wi-Fi, ensure your wireless network supports the following requirements which are listed at the bottom of this article. If you're using Ethernet,
A full explanation of all LED statuses can be found here.
Web Console
To register a camera from the web, go to the Camera tab and select "Register Cameras".
If this is the first camera you are registering, you'll need to add a location first either during this wizard or you can go to the Locations tab and choose "Add Location".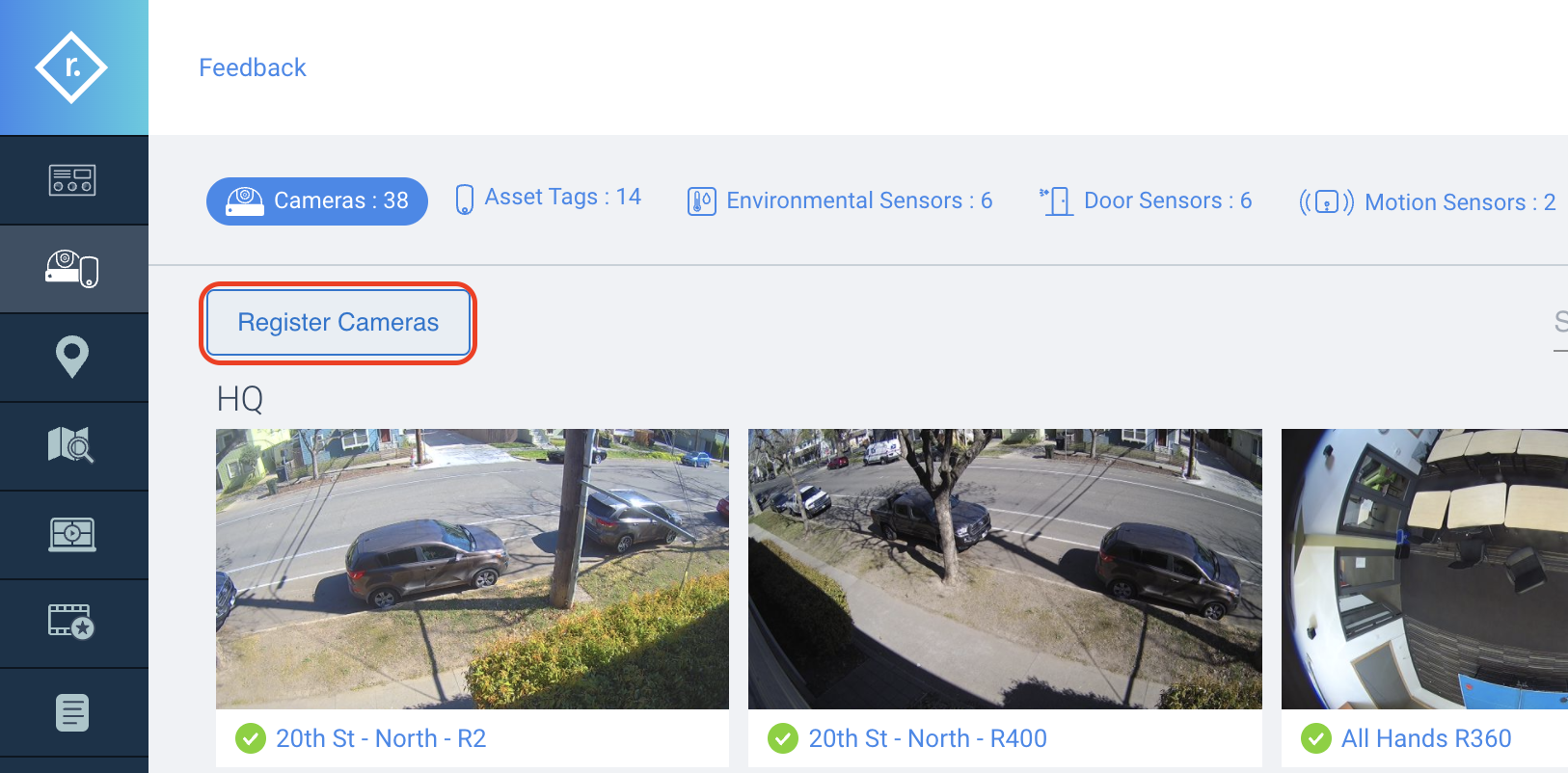 Have more questions? Contact Rhombus Support at +1 (877) 746-6797 option 2 or support@rhombus.com.
Interested in learning more? Contact Rhombus Sales at +1 (877) 746-6797 option 1 or sales@rhombus.com.