In this article, we go over some basic 'Profile' and 'User Settings' that can be adjusted in the console.
Profile
In order to see your profile settings log into the Rhombus console and click on your profile icon in the top right corner. See below for an example in the red box.

Then click on the 'Profile' option on the drop-down. Pictured below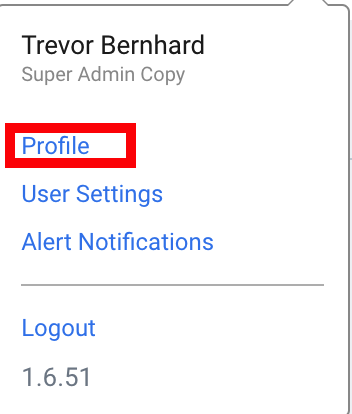 2-Factor Authentication
Next, you will see an option under your name and an area to put your phone number to adjust the 2-Factor Authentication options for just your individual account. Once you click on that option you will be taken to the screen below.

You are then able to toggle 2-Factor on and off. When turning 2-Factor on you will then be given the option to set 2FA for a virtual device. Like an Android authenticator or IOS Authy. See below for what the button looks like.

Account Sessions
In the profile section, you are also allowed to see all the sessions logged in from your account. You can all see more details on an individual log-in session and can sign out of all the sessions.
User Settings
Go back to the top right-hand corner of the console and click on your profile icon then click on the 'User Settings' option below.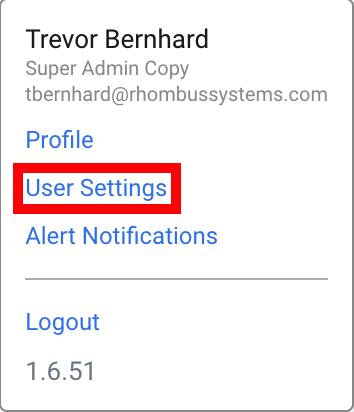 Once you get into the user settings page you will have the ability to password reset, units, roles, page order, and alert notifications.
Password Reset - Have the ability to reset your password for your account
Units - change the units to either imperial or metric
Roles - Have to see your current role and permissions
Page Order - Have the ability to change the page order of the left hand side of the console
Alert Notifications - Have the ability to see the current schedule for your account notifications
Have more questions? Contact Rhombus Support at +1 (877) 746-6797 option 2 or support@rhombus.com.
Interested in learning more? Contact Rhombus Sales at +1 (877) 746-6797 option 1 or sales@rhombus.com.