At Rhombus, we pride ourselves in providing amazing customer support. We know that questions and issues will arise and we want to make sure your experience is as positive as possible when that happens.
What's Included
At Rhombus, 24/7 support is included at no extra cost. Whether you have a 5 minute question, or need a 5 hour call, it's all included as part of our standard service. Our trained engineers are here to help you with any of your questions and get your issue solved ASAP. And since we develop all aspects of our software from the firmware to the cloud infrastructure, we have a myriad of tools to help debug and isolate potential issues.
We even take pride in our proactive monitoring tools where we will often notify you of a potential hardware issue before you even see it.
Lastly, all of our devices come standard with automatic firmware updates so that you never have to worry about security vulnerabilities or updating firmware. Everything is done automatically for you so you can focus on other, more important business.
Contacting Support
Online
You can contact support any time online by filling out a new ticket request on this website or clicking here. If you are inside the Rhombus web console, simply click the help icon at the top of the screen.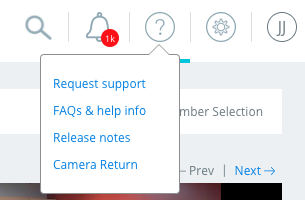 Phone
You can reach reach us by phone at +1-877-746-6797 Option 2. If someone doesn't answer, please leave a message. A support representative will return your call as quickly as possible.
Response Times
We aim to respond to all support tickets within 60 minutes or less with most issues being resolved in 24 hours or less.
When contacting support about hardware, it's most helpful if you know the serial number of the device(s) you have a question about.
Warranty, Returns, and RMA's
Please refer to this article.
Have more questions? Contact Rhombus Support at +1 (877) 746-6797 option 2 or support@rhombus.com.
Interested in learning more? Contact Rhombus Sales at +1 (877) 746-6797 option 1 or sales@rhombus.com.