In this article we'll discuss the steps for installing DPI sensors to the DC20:
What is a DPI sensor?
A Door Position Indicator (DPI) is a sensor used to detect the status of a door. The DPI sensor usually consists of many detection mechanisms used to determine wether the door is open or not, it is a physical sensor but it is also wired to the DC20. The DPI is usually mounted above the door, and it updates its status every time the door is open or closed.
Product Notes:
A DPI input is provided for each door in the DC20. Since the DC20 can have up to 4 doors associated, there can be up to 4 DPI sensors connected to an access control controller.

Power (V+/V-): Solid or stranded, min 18 AWG, 300 ft max

Final configuration will be done via the Rhombus console

Example use cases for DPI sensors:

Used as an added layer of security to trigger alerts when a door is open or closed
Installation Diagram
Below are a couple installation diagrams of the DPI to DC20. This diagram below is for Supervision for End of Line resistors:
The next diagram shows the the location of the DPI inputs in the DC20: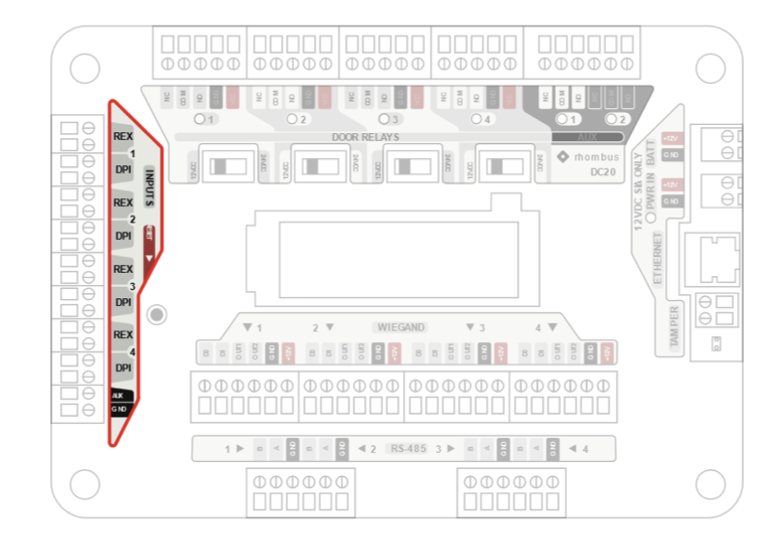 Supervision vs No Supervision
Rhombus recommends Double EOL on all REX and DPI installed with Rhombus access control. When configured as supervised, the input circuit will report not only open and closed but also open circuit, shorted, grounded, and foreign voltage. A supervised input circuit requires two resistors be added to the circuit to facilitate proper reporting. The standard supervised circuit requires 1k ohm, 1% resistors, and should be located as close to the sensor as possible. A no supervision circuit will only report open or closed. It will not report open circuit, shorted, grounded, and foreign voltage.
Helpful Links
Contact Support or Sales
Have more questions? Contact Rhombus Support at +1 (877) 746-6797 option 2 or support@rhombus.com.
Interested in learning more? Contact Rhombus Sales at +1 (877) 746-6797 option 1 or sales@rhombus.com.