To enable Kisi Integration with Rhombus, you will first need to create a CSR (Certificate Signing Request) on your local PC or Mac. Windows users need to download OpenSSL which can be found here or from a trusted provider.
In OpenSSL or Terminal you will want to copy and paste the below information.
openssl req -out rhombus_client.csr -new -newkey rsa:4096 -nodes -keyout rhombus_client.key -subj "/C=US/ST=California/L=Sacramento/O=Rhombus Systems/CN=Client Name"
Replace the C, ST, L, O, and CN values with the appropriate values for your organization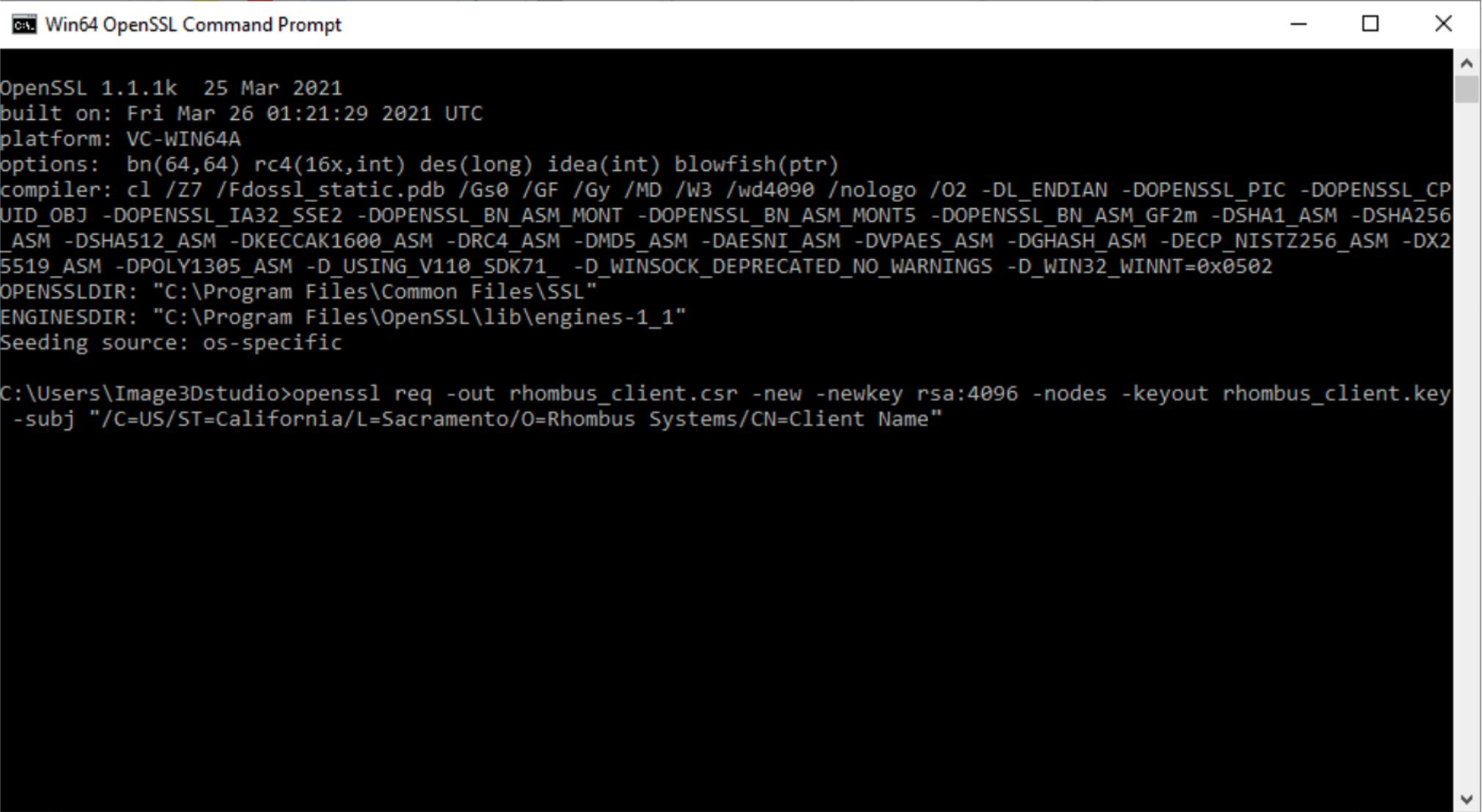 After completion, a .CSR and .KEY file will be created. These files will be used in the Rhombus console and Kisi console.
2. Open the Rhombus Console and navigate to API management which can be found in settings or you can copy and paste the below address in your web browser.
https://console.rhombussystems.com/settings/api-management/
In API management choose Add API Key in the upper right-hand corner. The following form will appear.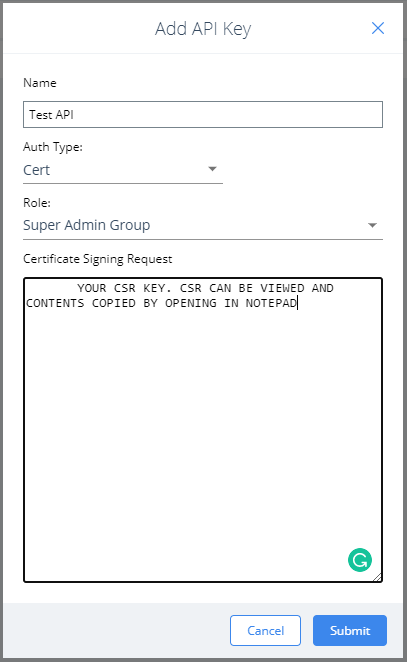 3. Copy and paste the information in the CSR you created earlier into the box "Certificate Signing Request" and choose submit. After submission, your API Key will be set to pending while Rhombus Systems authorizes your CSR.
4. After your CSR is authorized, open API management and choose Download on the right of your API key.
5. Sign into your Kisi console and click your name in the top right hand corner. Click Add API Key. A screen with your API key will come up.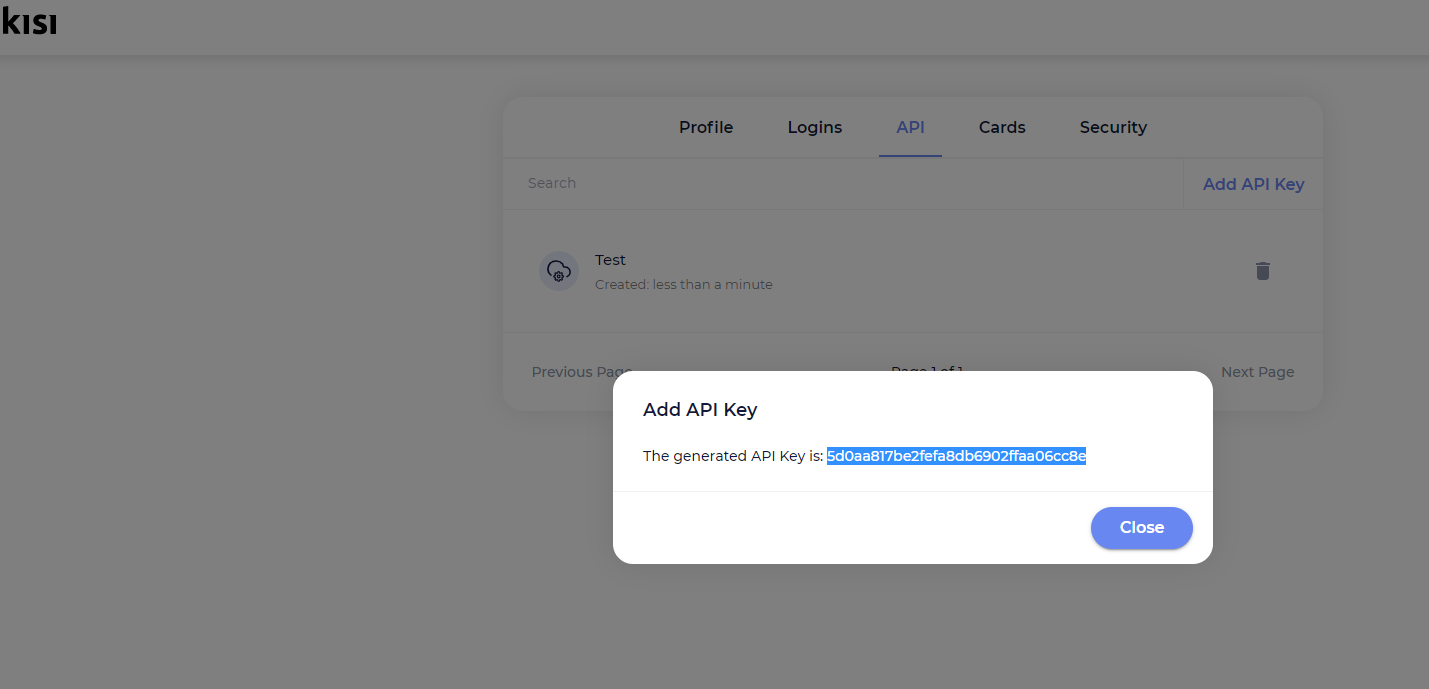 Please copy this information down as it will not be displayed again once the prompt is closed.
6. Next choose Create an Integration.
In the Integration form copy and paste the information found in the Cert that was downloaded in your API management console.
In the box labeled "Private Key" copy and paste the key generated in step 5.
In the box labeled "Rhombus Systems API Key" copy and paste the information from the API key generated in Step 1 and choose Add.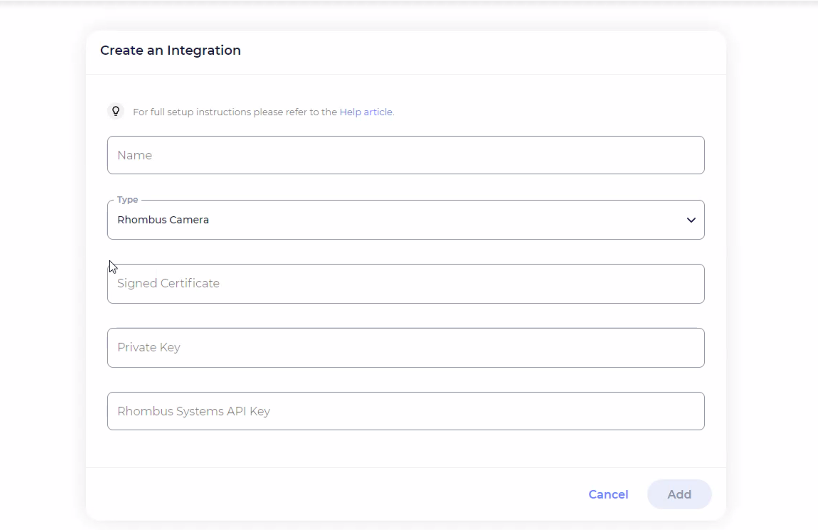 To enable the Integration with Kisi, on your Rhombus dashboard, choose the Settings Icon in the top right corner. Under badge systems, choose Kisi. Select what Kisi place you wish to associate with as well as what cameras with what doors.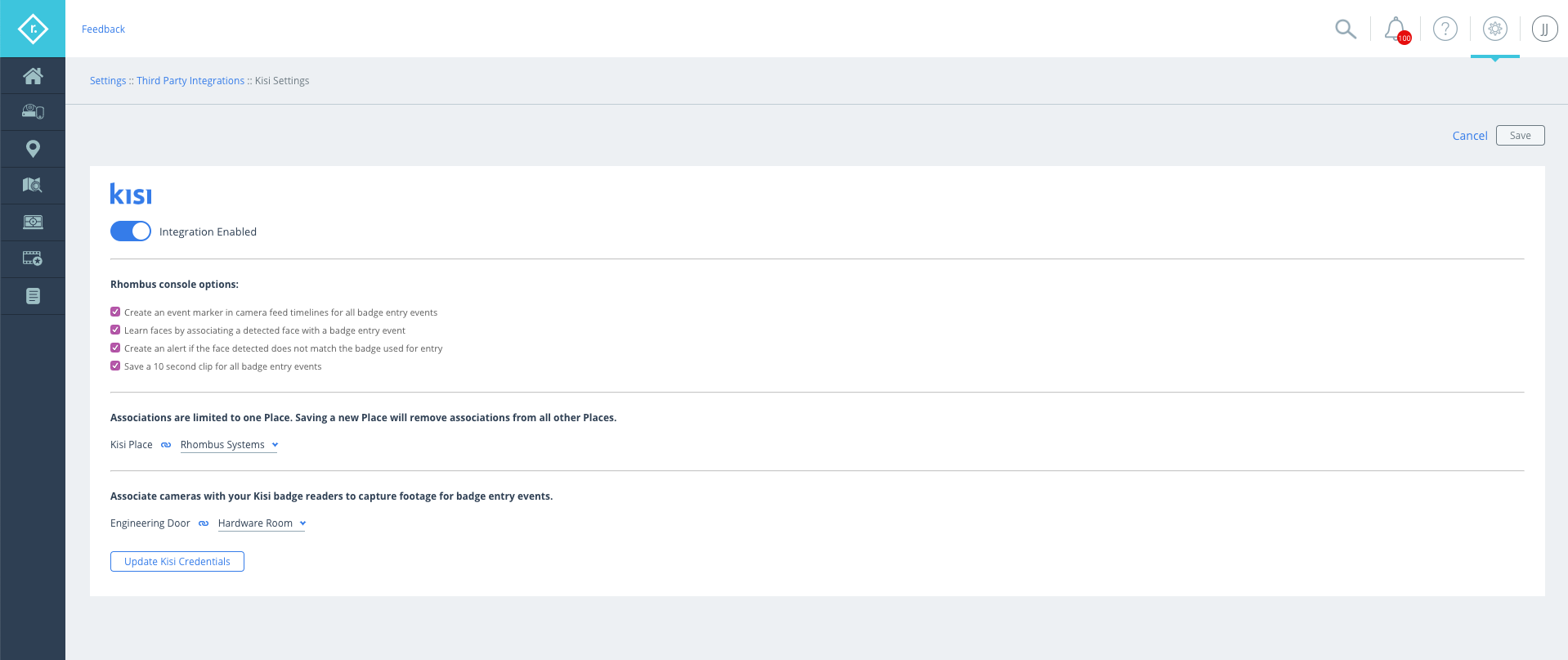 After you have set up the Integration between Rhombus and Kisi, you are able to see activity on your dashboard such as visitors, recent faces and more.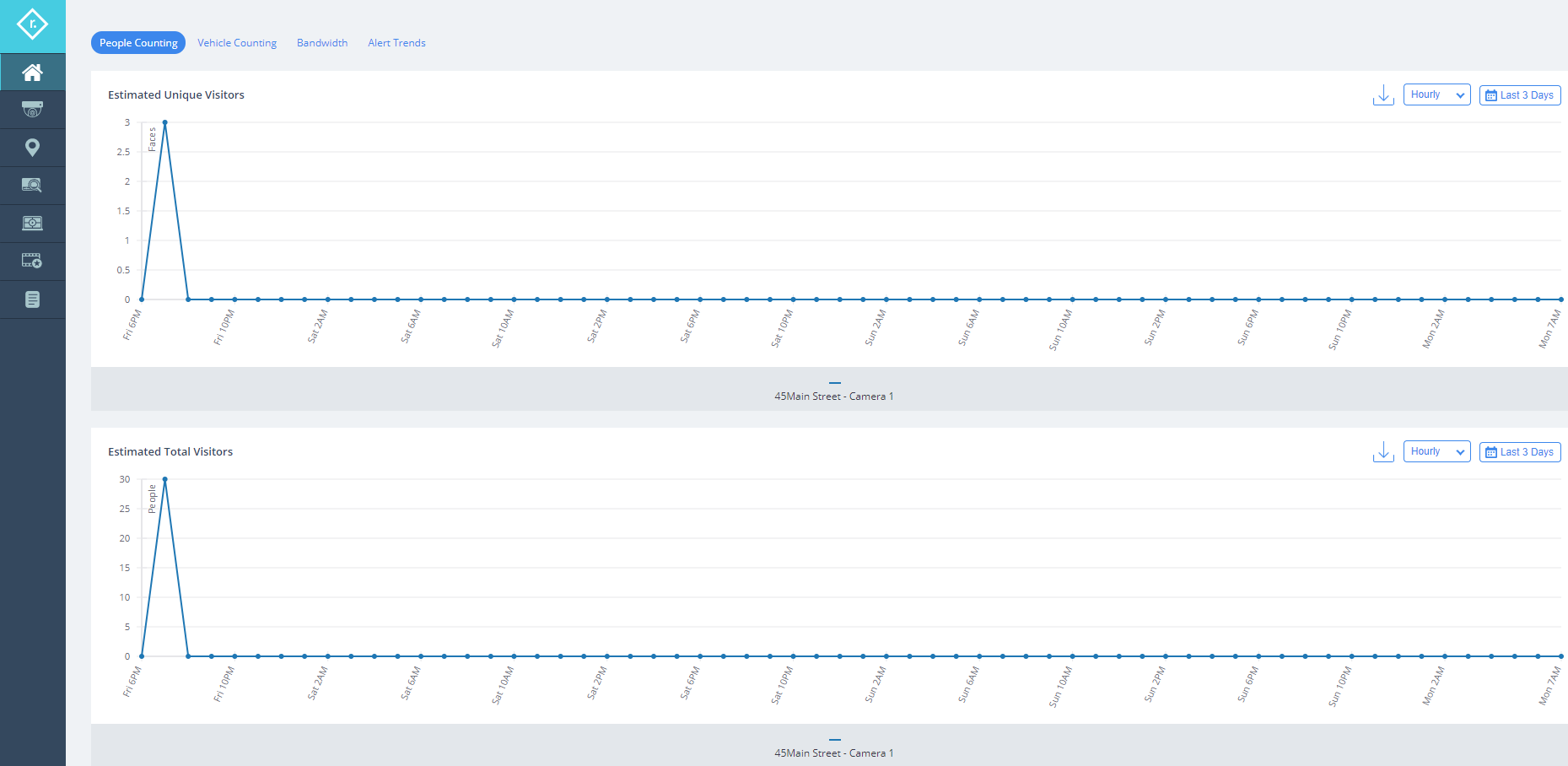 Under the tab "cameras" you can see live footage as well as different events that have occurred.

At this screen, you can choose what events you want to see. The different types of events correspond to different colors on the timeline. Every time a user is unlocking a door, an event of 10 seconds should start so you can see the unlock activity.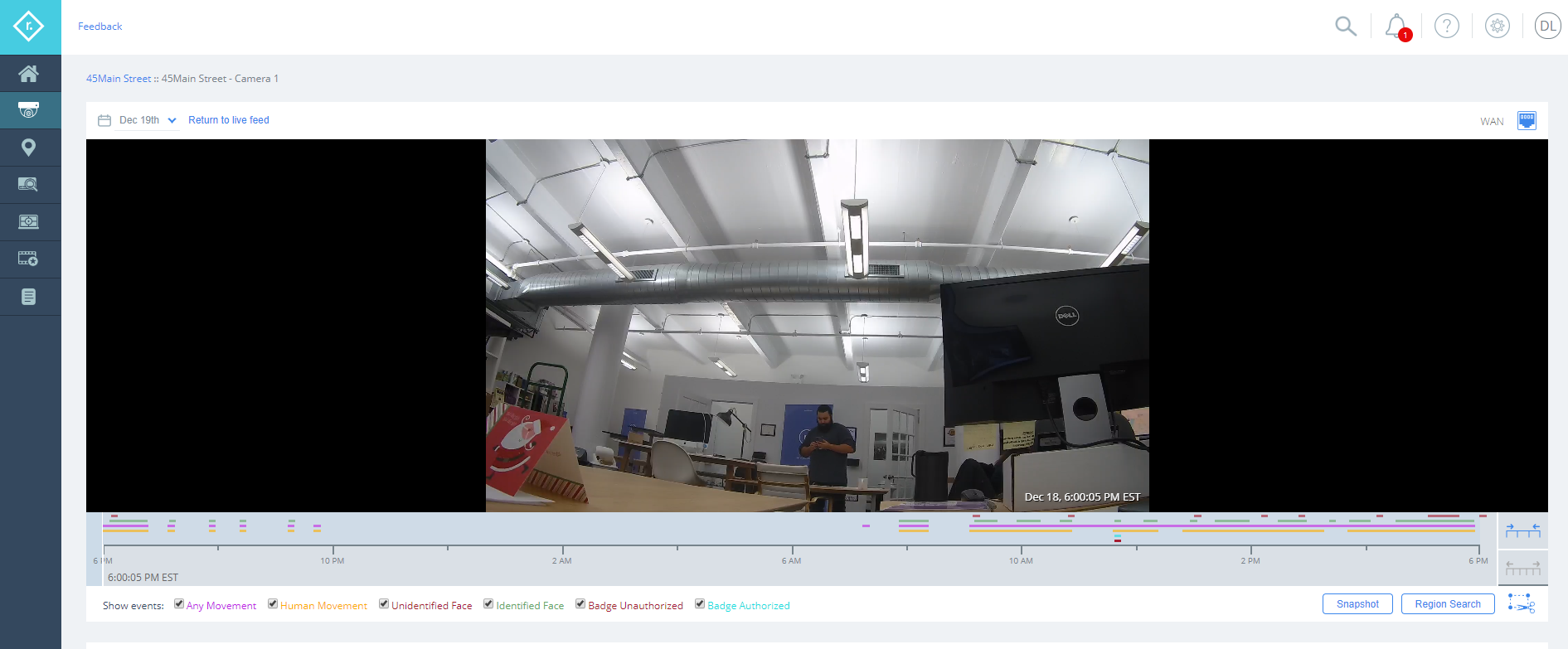 At the tab "saved videos" all your unlocking events should be saved. Go in here if you wish to see the footage of the unlock events.