Authorize Access
To authorize Rhombus Systems to save data in your Box account, you must authorize access. Click "Admin Console" then "Enterprise Settings". Click the tab "Apps" and scroll down to "Custom Applications". Click "Authorize New App" and enter the value "kvpo7mr30eip126uw0e6yt964yw23y5p" for the API Key and click "Next" and then click "Authorize"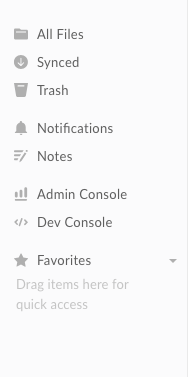 Enterprise Id
You can find your Enterprise Id by going to the Admin Console and clicking Account & Billing. You should see a field labeled "Enterprise ID"
Folder Id
You can select the folder you want clips to be saved under, but it MUST be a folder that is owned by the Rhombus application.
-----------------------------------
Here are some steps to view/create files inside the Rhombus "application":
Login to Box as the root admin and click "Admin Console" on the left
Click "Content" on the left
In the "filter by user" text box, type Rhombus
If you click on the Rhombus user, you should see "Rhombus Systems - Cloud Video Security's Files"
If you right click on the user name on the left side, you should see an option to "Login to user's account"
This will take you into the Rhombus applications storage space, and allow you to either view files that have been created or create a directory that you want the files saved to.
-----------------------------------
You can find the "Folder Id" for a folder by going to the file navigator in your browser and choosing "All Files". Click through the hierarchy until you are in the folder you want to use. The URL in your browser should look something like https://rhombussystems.app.box.com/folder/59715232153/.
The last numbers, in this case 59715232153 is the Folder Id.
Have more questions? Contact Rhombus Support at +1 (877) 746-6797 option 2 or support@rhombus.com.
Interested in learning more? Contact Rhombus Sales at +1 (877) 746-6797 option 1 or sales@rhombus.com.