In this article, we will discuss the Wiegand standard and how you can install them onto the DC20.
What is Wiegand?
Wiegand is a wiring standard built in the 1980s by John R. Wiegand. It is used to connect a card swipe action to an access control system. This means once the card is swiped, credentials associated with the card are sent to the controller, which then compares the credentials against a database of who can access what.
This mechanism uses three wires, which are ground, Data0, and Data1 (also referred to as D0 and D1). In an idle state, both D0 and D1 are pulled high (usually +5 VDC). When a 0 is sent, the D0 wire is pulled to a low voltage while the D1 wire stays at a high voltage. When a 1 is sent, the DATA1 wire is pulled to a low voltage while D0 stays at a high voltage.
Wiegand Protocol
The Wiegand protocol has one parity bit, 8 bits of facility code, 16 bits of ID code, and a trailing parity bit for a total of 26 bits. The first parity bit is calculated from the first 12 bits of the code, and the trailing parity bit from the last 12 bits.
Wiring a Wiegand Reader to the DC20
D0 (DATA0): yellow wire, minimum 24 AWG, 300 ft max run
D1 (DATA1): light blue wire, 24 AWG, 300 ft max run
GND: black wire, solid or stranded, twisted pair, minimum 24 AWG, 300 ft max run.
+12V: red wire, t

he

12VDC

reader

power suppl

ies are

rated to

6

6

0m

A each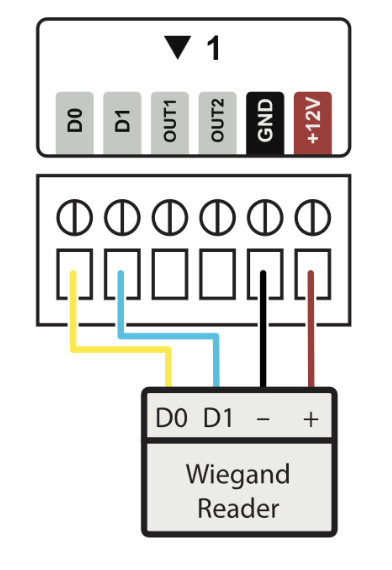 Terminals [OUT1] and [OUT2] are configurable in Rhombus Console to support LEDs and buzzers.
Set up in the Rhombus Console
To set up the Wiegand reader in the Rhombus console you just follow the pathway below.
Rhombus Console > Settings > Door Controllers > Wiegand Ports
After following the path please add the Wiegand reader by clicking on the 'Quick Add' or 'Configure' options below the specified port you physically connected the reader to on the DC20. See below for a quick video example. We offer the ability to check if there is a Red or a Green LED connected. Note: The Rhombus web console does not auto recognize Wiegand readers so they will have to be manually added.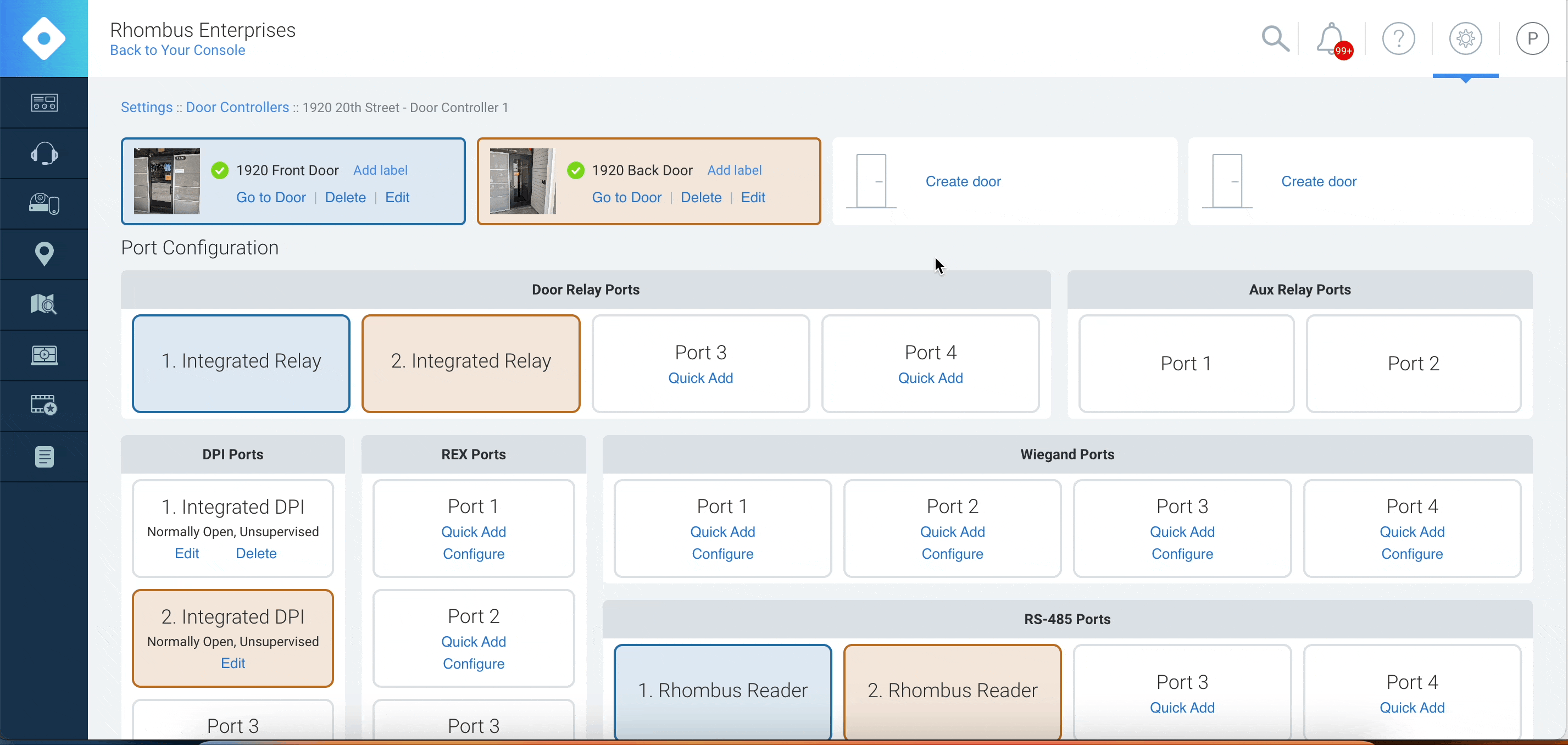 Contact Support or Sales
Have more questions? Contact Rhombus Support at +1 (877) 746-6797 option 2 or support@rhombus.com.
Interested in learning more? Contact Rhombus Sales at +1 (877) 746-6797 option 1 or sales@rhombus.com.