When configuration alert notifications, you may have some questions about what each alert type means.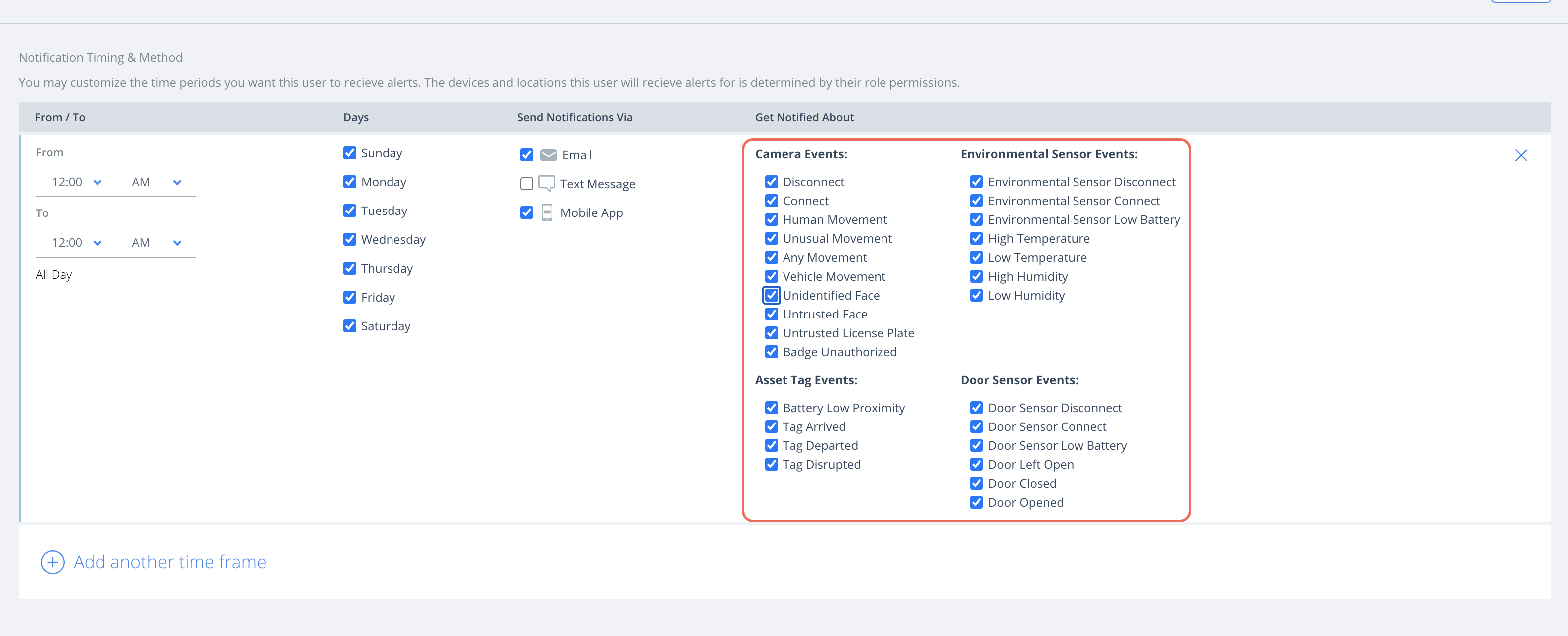 Below is a list with explanations for each event:
Camera Disconnect: A camera has not connected to the Rhombus Servers for longer than 30 seconds.
Camera Connect: A camera has reconnected after being disconnected.
Human Movement: Human movement was detected
Unusual Movement: Unusual movement was detected.
Any Movement: A camera noticed motion of any kind.
Vehicle: Vehicle motion detected by a camera
Unidentified Face: A camera detected a face, but it is not recognized.
Untrusted Face: A known, untrusted face was identified.
Untrusted License Plate: A known, untrusted license plate was identified.
Badge Unauthorized: Badge used by an unauthorized person.
Environmental Sensor Disconnect: Sensor lost bluetooth connection to the nearby R2 camera
Environmental Sensor Connect: Sensor is connected to a nearby R2 camera
Environmental Sensor Low Battery: Only 10% remains on Battery
High Temperature: Temperature went above specified threshold
Low Temperature: Temperature fell below specified threshold
High Humidity: Humidity went above specified threshold
Low Humidity: Humidity fell below specified threshold
Asset Tag Low Battery: Only 10% remains on Battery
Asset Tag Arrived: Tag is now within ble range of an R2 camera
Asset Tag Departed: Tag is not within ble range of any R2 cameras
Asset Tag Disrupted: Asset Tag changed postition after being stationary
Door Sensor Disconnect: Sensor lost bluetooth connection to the nearby R2 camera
Door Sensor Connect: Sensor is connected to a nearby R2 camera
Door Sensor Low Battery: Only 10% remains on Battery
Door Left Open: Door open for longer than specified period
Door Closed: Changed from open to closed state
Door Opened: Changed from closed to open state