"Can I get an alert when a disgruntled employee is on-site?" "Can I get an alert for when a specific person is seen somewhere they are not suppose to be?" "Can I get an alert for when an executive arrives onsite?" The answer is yes!
A face can be marked to generate an 'Face Alert' using Labels. A Label is a logical tag to an object that allows users to group Faces and apply an alerting policy to them.
Getting an alert for a specific face is a multi-step process that includes building face profiles, creating a Label, creating an alert policy and enabling notifications. All these steps are detailed below.
Creating a Label for a Face
The following assumes that you have an Enterprise License applied to the camera, have the Face Recognition enabled, and that the system has started collecting Faces. To read more about Managing Facial Recognition click here. You can also start Face Profiles by uploading a .jpg and or linking up a badge system through our Third-Party Integrations page.
Overtime, cameras with the People License applied will start collecting Faces and you'll be able to manage them in the Investigations tab:
Go to Investigations in the left-hand navigation pane > Faces sub-tab > Recent Sightings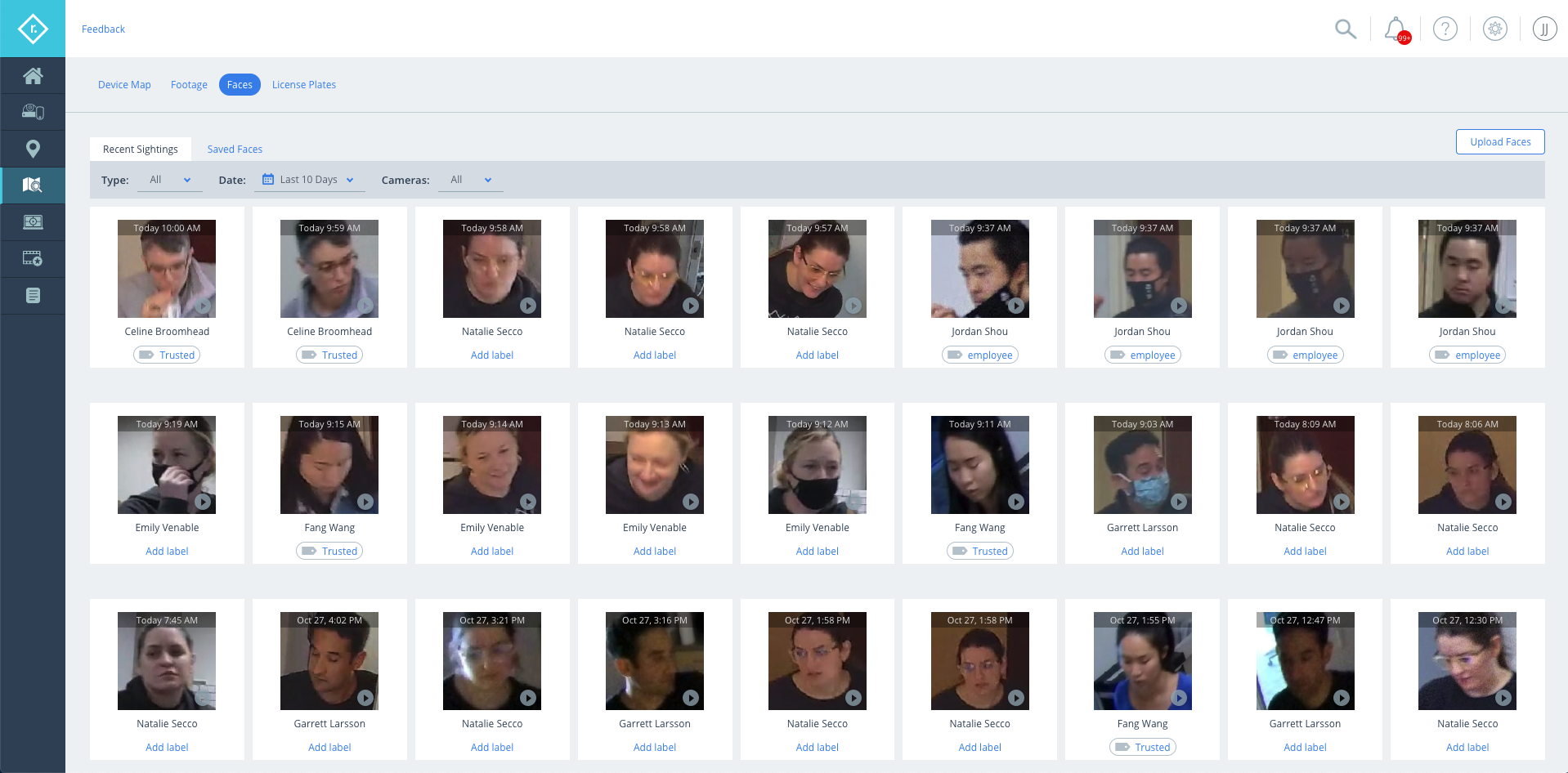 Here, you will see a timeline with most recent face sightings at the top. Once you have found the face you want to mark with a Label, you will click on the 'Add label' below the face and assign a Label.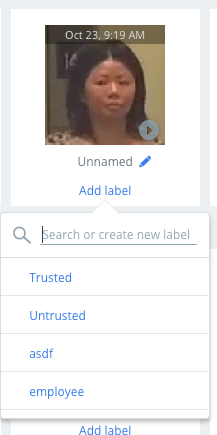 If this is your first time with a Label, just type in the search bar the name of the Label you would like to create. Once you are done just hit 'Enter' on your keyboard. Voila! Label created.
You can assign several faces to the same Label since this is just a logical grouping that you can then assign in your Alert Policies.
Here is an example of what your Recent Sightings could looks like:

Note: You do not need to name the face in order for this feature to work. The face profile for that person is being built regardless of whether a face is 'Saved' by naming it.
Create an Alert Policy for Faces with certain Labels
To read more about creating Camera Alert Policies, make sure to read this article.
Once a Label is created, you will go to the Alert Policies page in Settings. Click on 'Add Policy' to create a new one, or select an existing one to modify it.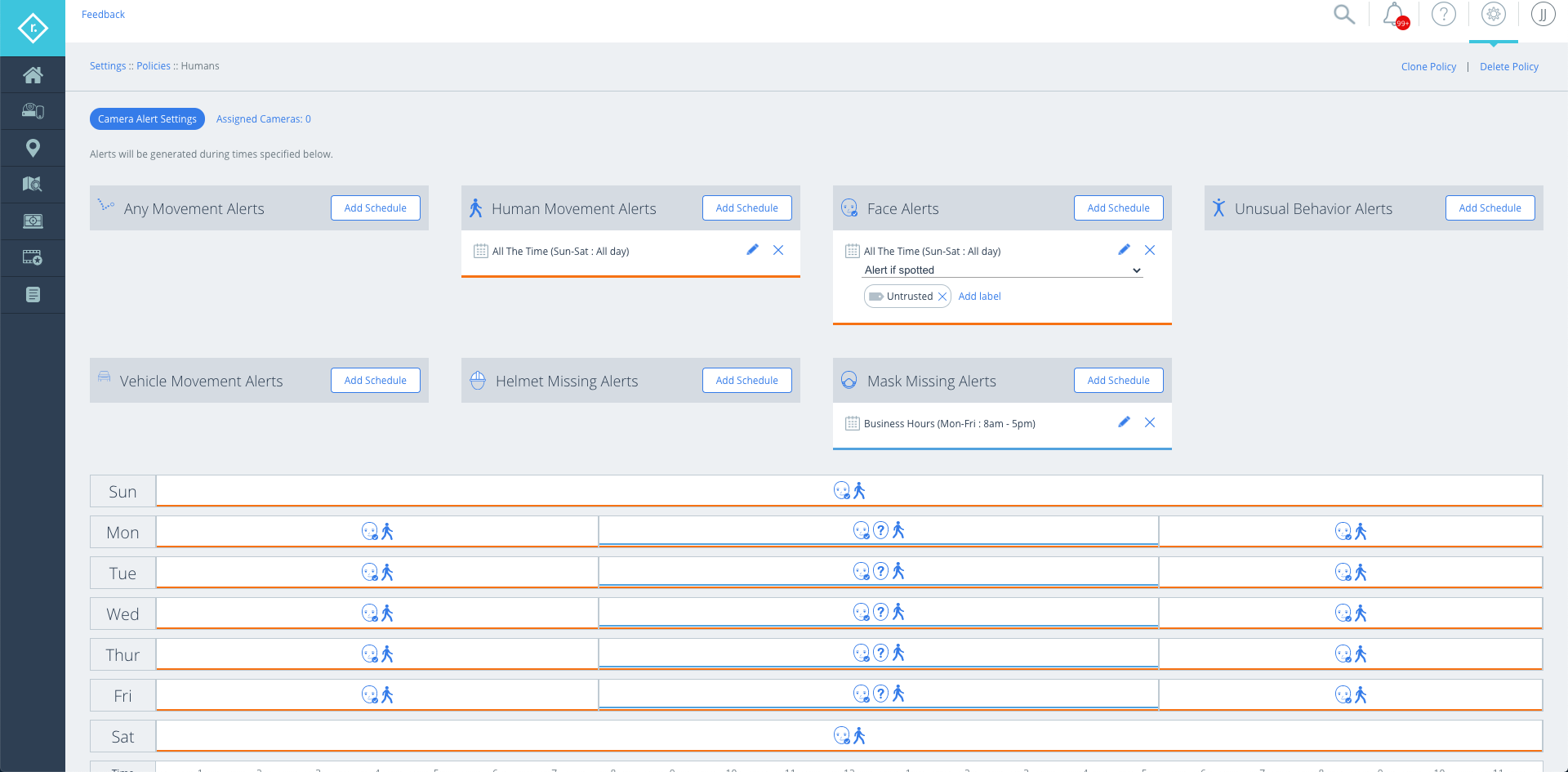 In the 'Face Alerts', you can click on 'Add Schedule' and select the time frame you want the alerts to occur in. Here I'll select 'Business Hours' and 'Alert if spotted' and 'Add label' to add the appropriate faces.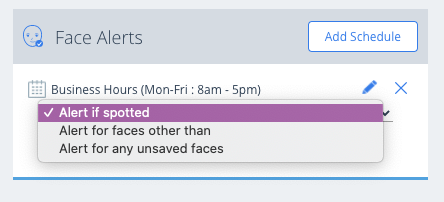 Now if a face that is labeled either Untrusted or Executive is observed Monday through Friday between 8am and 5pm by any cameras that have this policy assigned, it will generate an active alert clips.
Once you have setup the schedule, you will also need to assign the policies to cameras to that you want to be alerted on. In the upper left, click on 'Assigned Cameras', then click 'Add Cameras' and select the cameras from the drop down menu.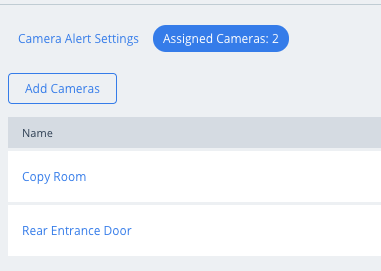 To actually receive a notification, you'll need to make sure that the User Notifications are setup. Select the 'Face Alerts' checkbox during the time frame that you want to receive a notification via email, text message, or push notification.
Click here to read more about Alert Notifications.
Have more questions? Contact Rhombus Support at +1 (877) 746-6797 option 2 or support@rhombus.com.
Interested in learning more? Contact Rhombus Sales at +1 (877) 746-6797 option 1 or sales@rhombus.com.