Ensuring a great viewing experience is fundamental to a great video surveillance experience, which is why Rhombus offers two different modes for viewing live video: 'Live Realtime' and 'Live Buffered'.

By default, Live Realtime is selected, so if you are experiencing choppy live streaming as a result of overloaded hardware resources, you can select the more conservative 'Live Buffered' mode. Live Buffered will still give you low video latency with a 5-8 seconds delay on HD video, but will also ensure less frame drops resulting in a smoother playback. Live Buffered is ideal for users who are experiencing high CPU and GPU cycles, and who may want to increase certain recording parameters such as image resolution.
This feature is selectable at the camera level to allow you have a mix of Live Buffered or Live Realtime streaming depending on the camera application. Changing this viewing preference has no effect on the video being stored onboard the camera.
To find this feature and modify the default setting, go to a Camera device page, and look for the 'Live' drop down in the upper left of a camera player.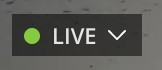 This will pull down the two different options that you can select from:

Once you have selected which one you want, the setting will automatically save and adjustments should occur in a few seconds.
If you have any further questions please reach out to our Rhombus Support at help@rhombus.com. If you would like to talk to a Rhombus Sales Representative please reach out to sales@rhombus.com.