If you have a Rhombus Systems T1, registering it takes just a few quick steps:
First, you must have an R2/R200 camera within range (50 feet or less from sensor) and the R2/R200 must already be registered and powered on. You must also have the mobile app (Android or iOS) installed on your phone as registration can only be done from the mobile app.
T1 Asset Tag
To register this sensor, press down on the back of the sensor on the black dot after the word "contains" to put the sensor in registration mode. You will see a green dot pulsing once the sensor is ready to be registered (as seen below). The sensor will stay in registration mode for 2 minutes before going to sleep.
Once the green dot is pulsing, open your mobile app and select "Register Devices". From there select the devices you want to register and that is it.
You can register as many sensors at once as you want.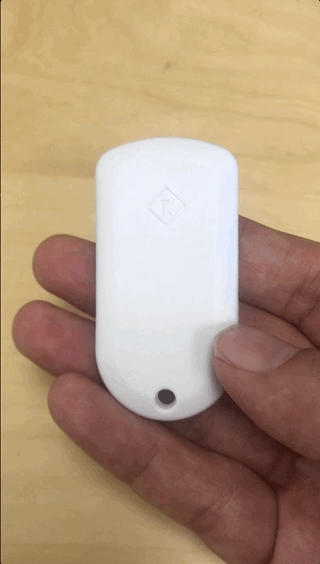 Unregistering a Sensor
You can unregister sensors from the phone app. You will need to be connected to the same network as the sensor you want to un-register.
Here are the steps:
1. Home page by clicking on 'Devices'
2. Scroll to the bottom and click 'Utilities'
3. Click on 'Unregister Sensors'
4. Select the sensors you want unregister and continue the process