Topics included in this article:
The Audit and Diagnostics Logs are located on the 'Logs & Reports' section of the Rhombus Console. You will find them by clicking on the report icon in the bottom of the navigation pane.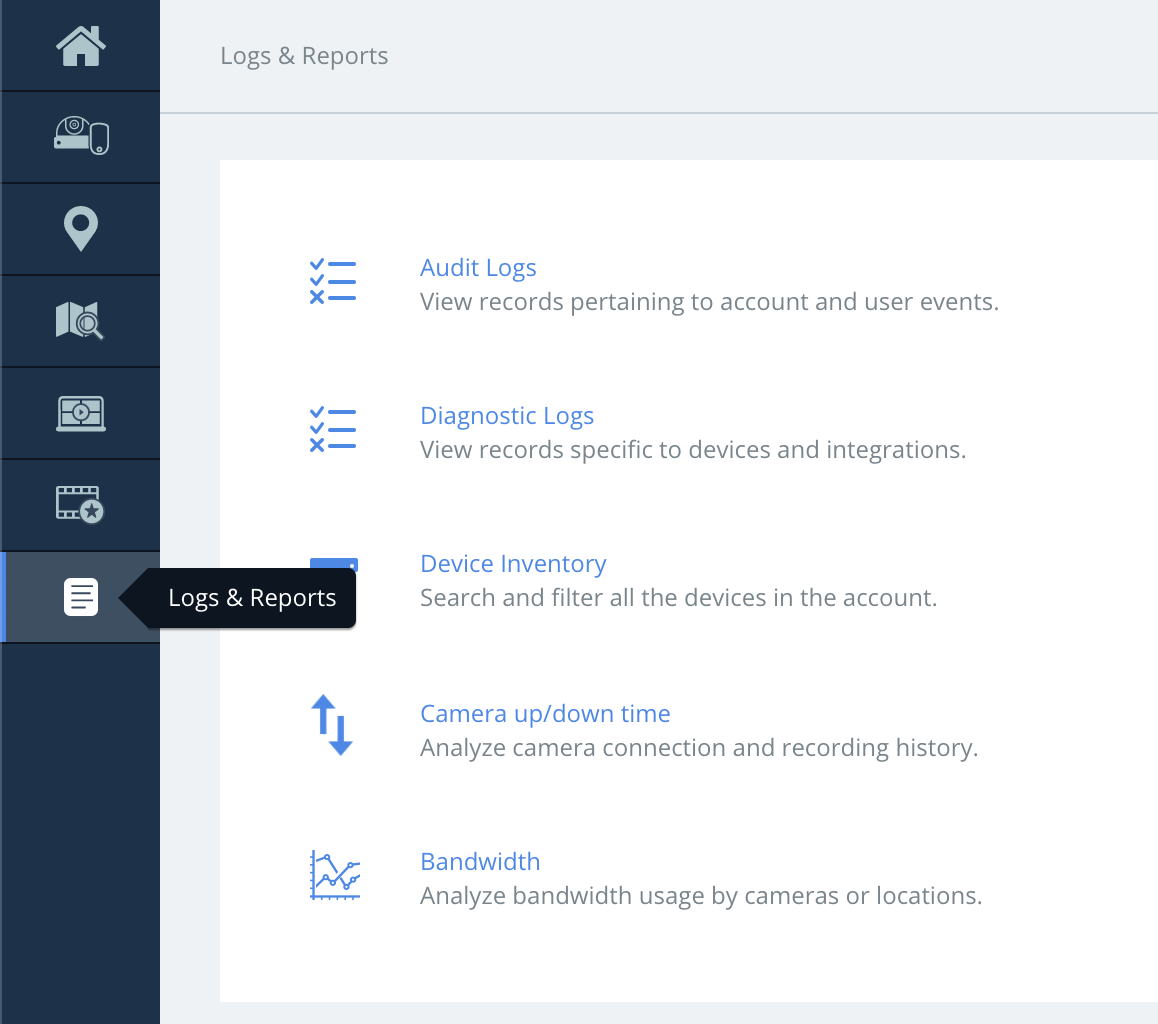 Audit Logs contains a table where each entry is an action taken in the Console. The table will contain values that inform you of which User performed the action, the Action taken, which object was the Target, which IP initiated the action, the location of the IP, and the Timestamp when the action took place.

This feature is useful if you need to more effectively track user activity, administrative operations, mitigate risks, and meet compliance standards.
Here is a list of all actions that are currently being tracked:
All Policy Alerts Dismissed
Audit Logs Exported
Basic Authentication Failure
Basic Authentication Success
Camera Deleted
Camera Firmware Update
Camera Forced Reboot
Camera WiFi Changed
Clip Saved
Clip Shared
Count Reports Exported
Device Updated
Device Inventory Exported
Device Setting Updated
Diagnostic Logs Exported
Feedback Sent
License Assigned
Live Video Shared With Password
Live Video Shared Without Password
Location Deleted
Mobile App
Mobile Console
Mobile Login
Mobile Login Failure
Mobile Logout
Org Settings Updated
Policy Alert Dismissed
Policy Created
Policy Deleted
Policy Updated
RMA Ticket Opened
Role Created
Role Deleted
Role Updated
SAML Mobile Login
SAML Mobile Login Failure
SAML Web Login
SAML Web Login Failure
Saved Clip Deleted
SCIM API Access Revoked
SCIM API Access Setup
Shared Clip Deleted
Shared Live Video Deleted
Support Acces Revoked
Support Access Granted
Support Ticket Opened
Timelapse Created
Timelapse Deleted
Uptime Reports Exported
User Acceptance Policy Accepted
User Created
User Deleted
User Updated
User's Role Updated
Virtual MFA Device Delete
Virtual MFA Device Setup
Web Console
Web Login
Web Login Failure
Web Logout

If there is an action event we are not tracking, please feel free to let us know!
The Diagnostics Logs page contains a table with the Activity associated with hardware devices and third-party integrations. In the table you will find the date and time of the activity, the Device by name, and the type of activity.
For example, you will see these types of events associated with connecting a camera for the first time.

For a brief explanation of the diagnostic, hover the mouse over the "Activity Field" and the corresponding error message will display.

Here is a list of diagnostic activities that assist users in troubleshooting.
CAMERA_CONNECTED,
CAMERA_DISCONNECTED,
STARTUP,
UPDATE_STARTED,
UPDATE_FIRMWARE_DOWNLOADED,
UPDATE_FIRMWARE_APPLIED,
UPDATE_STARTING_REBOOT,
UPDATE_FAILED_MD5_MISMATCH,
UPDATE_FAILED_ACCESS_DENIED,
UPDATE_FAILED_CONNNECTION_REFUSED,
UPDATE_FAILED_CONNNECTION_TIMEOUT,
UPDATE_FAILED_DNS_FAILURE,
UPLOAD_CLIP_SUCCESS,
UPLOAD_CLIP_FAILURE,
USB_FAILURE_REBOOT,
PING,
FORCED_REBOOT,
AUDIO_HARDWARE_NOT_DETECTED,
ENCRYPTED_CONTAINER_FAILURE_CREATE,
ENCRYPTED_CONTAINER_FAILURE_OPEN,
ENCRYPTED_CONTAINER_FAILURE_MOUNT,
VIDEO_HARDWARE_FAILURE,
WIFI_NETWORK_CHANGED,
SERVER_RECONNECT,
AP_CHANGED,
CLIMATE_OFFLINE,
CLIMATE_ONLINE,
CLIMATE_LOW_BATTERY,
DOOR_OFFLINE,
DOOR_ONLINE,
DOOR_LOW_BATTERY,
PROXIMITY_LOW_BATTERY,
REBOOT,
NETWORK_INTERRUPTION
Have more questions? Contact Rhombus Support at +1 (877) 746-6797 option 2 or support@rhombus.com.
Interested in learning more? Contact Rhombus Sales at +1 (877) 746-6797 option 1 or sales@rhombus.com.