Steps:
The R2/R200 camera view can be aimed manually when the bubble is removed. For this reason, it's most efficient to aim the view during installation. The recommended order of tasks is:
Determine the camera location, and wire the location.
Remove the bubble with the three Torx T10 screws.
Connect and mount the camera. Do not reattach the bubble yet!
Register the camera and view its live feed. (Note: R2-L live feed will look blurry while the dome bubble is off.)
Aim the camera view as described below.
Reattach the bubble.
Special Notes for R2-L and R2-180
R2-L performs best when the lens is aimed through the center, not the edge, of the clear dome bubble. The image will appear blurry when the dome is off during aiming; it will become sharp when the dome is replaced. R2-L's focus is optimized at a 90ft distance; objects nearer than about 40ft will be out of focus.
R2-180 can mounted on a wall or ceiling. In wall mounting, it can see along the wall in both directions. On a ceiling it can provide a view of half the area around it; two colocated R2-180's can provide full coverage of the area. R2-180 has multiple dewarping options with different fields of view, which should be considered as the view is aimed.
Aiming: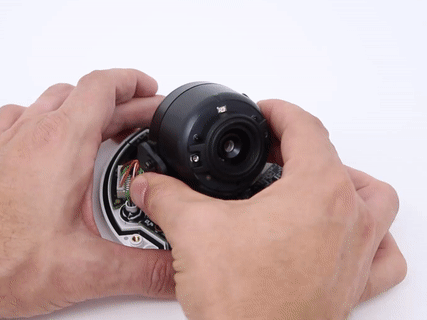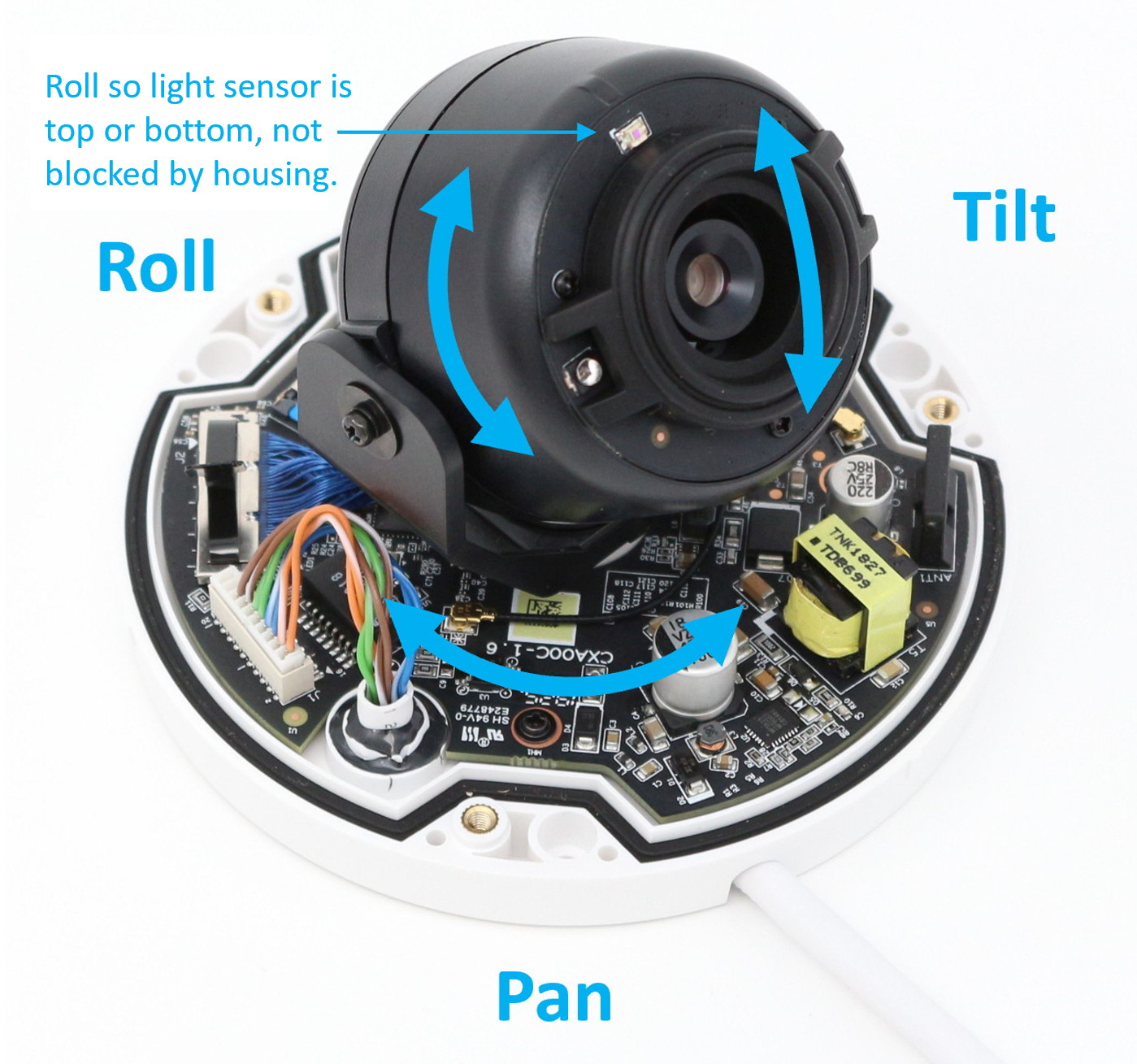 R2 aiming is done manually with the bubble removed. The aim cannot be adjusted remotely through the console (i.e., it is not motorized). It's best to aim during installation, before reattaching the bubble.
The R2 image module rotates on three axes to aim the view: pan, tilt, and roll. If it doesn't seem to move in the direction you want, try rotating all the way around to the other direction.
Once aimed, rotate the module's "roll" axis to ensure that the image sensor is level, with the light sensor on top or bottom and the IR LEDs to the left and right, as shown above. Ensure that the light sensor is not blocked by the white housing cover when the dome bubble is applied to the camera.
Confirm that the aim is as desired by viewing a live feed from the camera.
Note that R2 cameras also feature 1.25X digital pan/tilt/zoom for fine adjustment, which can be remotely controlled in the console.
Finally, screw the dome bubble tightly onto the R2.