If you'd like to share a Livestream of a Rhombus camera, please follow these steps:
Share Livestream via Console
Step 1:
Many customers often want to share a camera feed on their website, to customers, or someone else without giving access to their account. To setup, a shared video feed, navigate to the camera that you want to share, scroll to the bottom and select "Shared Streams" in the camera details.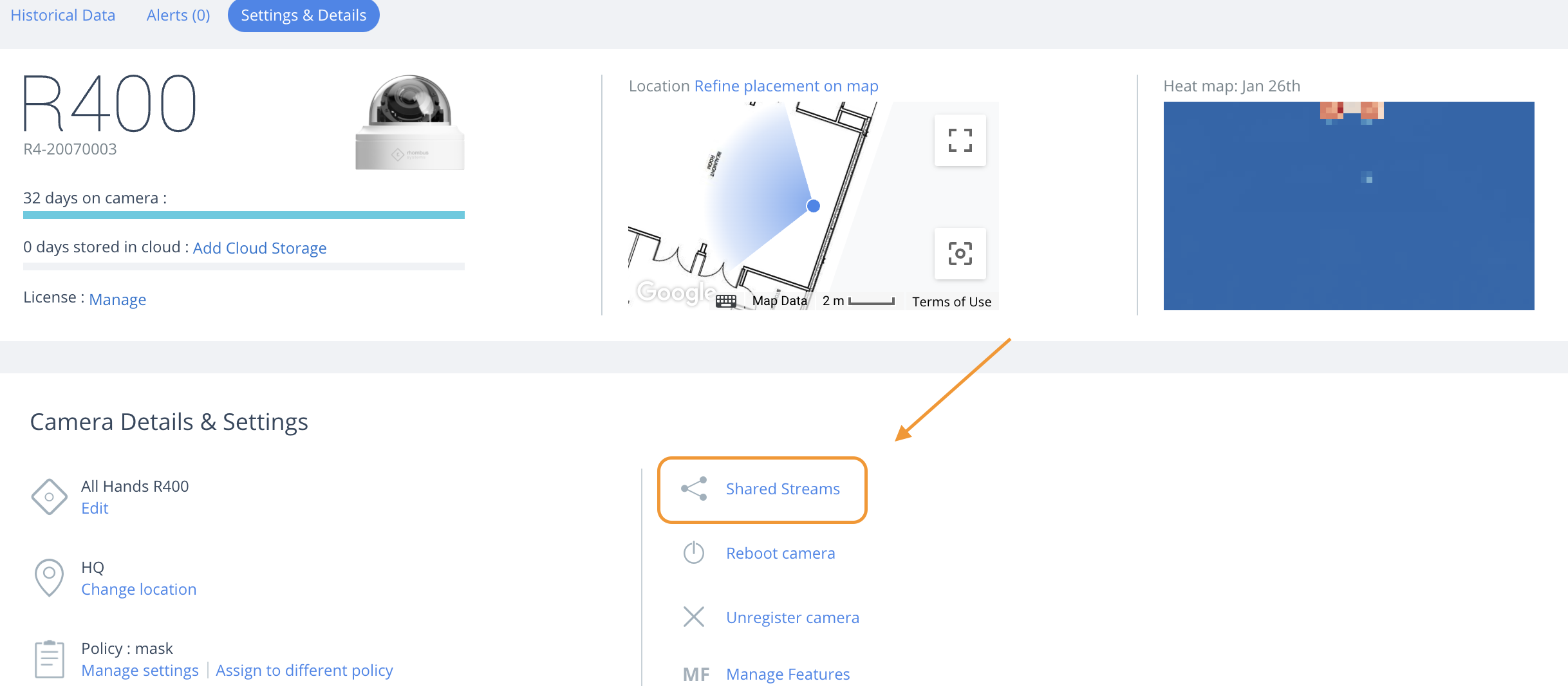 Step 2:
When you click on this link, you'll be given the option to view streams you've already created or if you have none, you'll be able to create a new one. To create a new one, simply choose the "Create" option.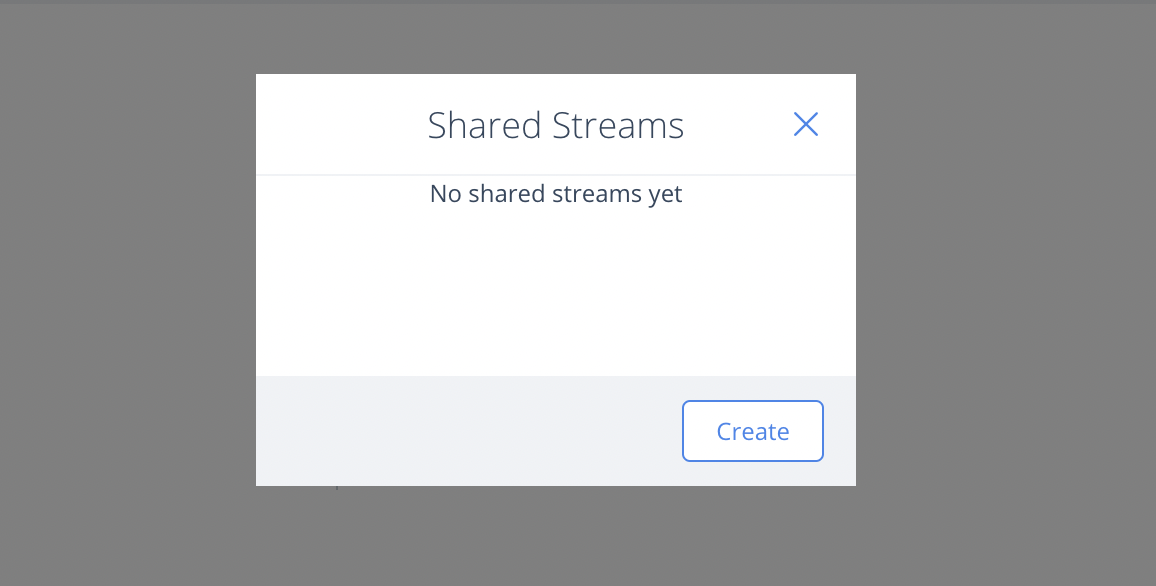 Step 3:
When you create a new shared video stream, you'll have a couple of options. First, you can give users the ability to access past footage. When they see past footage, it's important to note that all the events an internal user sees in the timeline, an external user will see as well. Secondly, you'll be able to password protect this stream. If you want to give this out to a smaller audience and ensure it's not publicly available, this is a good option to enable.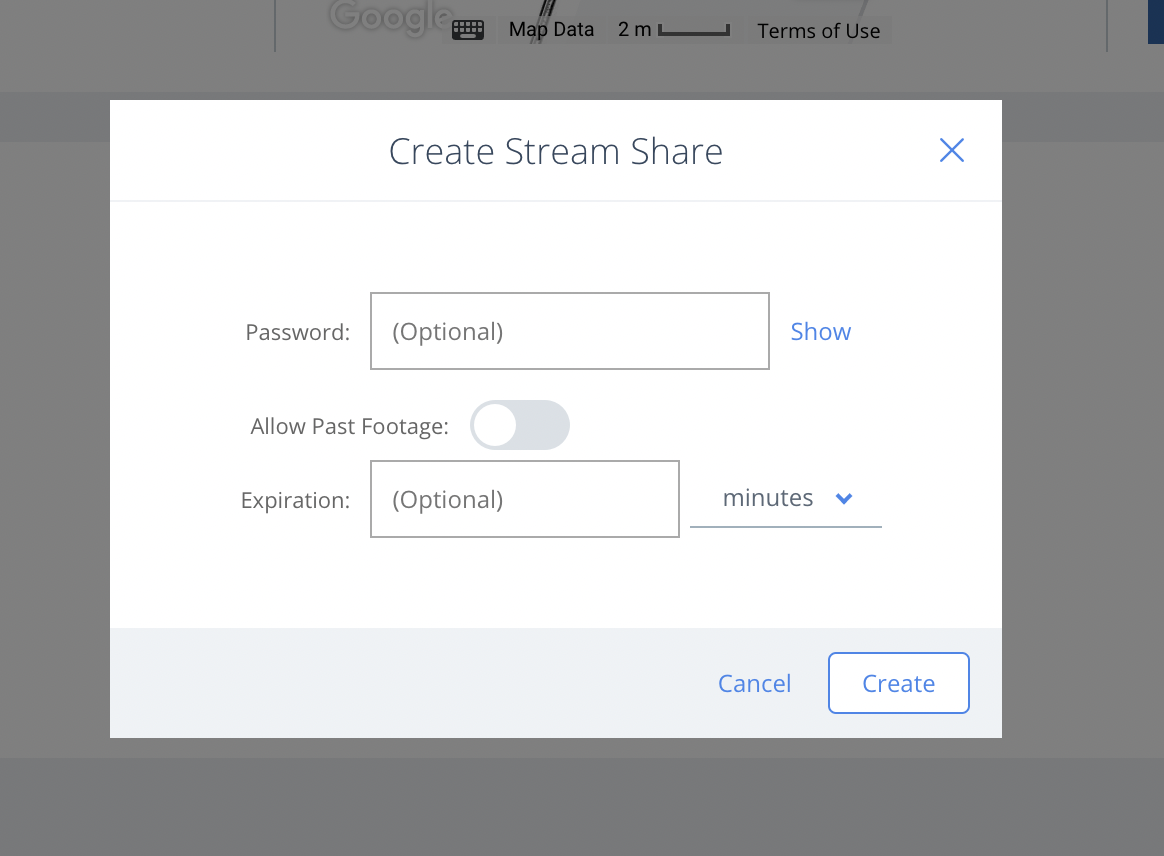 Step 4:
Once you've selected the appropriate options, your shared video stream will be ready to share with others. If you'd like to revoke access to the stream all you'd have to do is click the X on the far right column.

Embedding a Livestream
After creating the shared stream you have an option to 'Copy Embed Code' this would you the ability to take the iframe inline code and customize it to any web page. To learn more about iframe here is a link. Below is also an example of the Embed code.
<iframe allow="fullscreen" frameborder="0" height="100%" width="100%" src="https://console.rhombussystems.com/share/live/Ptwo9W-FT2SqAFRCeohVyw"></iframe>
Share Livestream via App
Step 1:
To share a link from the mobile app, navigate to the player screen, click the button in the bottom middle of the screen and select "Shared Streams". This will walk you step by step to create a shared link.