Topics included in this article:
What is a Video Wall
A video wall is a collection of individual camera feeds combined in a single display. They are useful if you want to watch multiple cameras at one time.
Setup a Video Wall
1) Select Video Walls from the navigation bar on the left, then Add Video Wall.

Note: You will be prompted to name the wall.

2) Once created you will enter edit mode:

3) Add cameras:

Select the cameras you want to add to this video wall from the available cameras on the left side of the screen.
Cameras with a blue checkmark in the lower right of their thumbnail image are added.
You can only add a camera once per video wall.

4) Position the cameras:

Once a camera is added, the right side of the screen will display a preview of the video wall.
Drag and drop cameras to change where they appear within the layout.

5) Configure:

The top bar contains multiple settings for this video wall. A description of what each button does is provided below:

Realtime Streaming: For optimal performance and to create a smooth viewing experience, video walls have a short delay of ~6 seconds. When toggled on, sets the streaming delay to less than 1 second.

Note: This may result in choppy playback for computers lacking sufficient processing power.

HD or SD: For best performance, SD (standard definition) is recommended. SD will only apply to cameras connected over WAN unless in Realtime streaming is toggled on.
Visible to others: Default Off. When toggled on, it allows other users to see this video wall.
Editable by others: Default Off. When toggled on, it allows other users to edit this video wall.
Rotate Default: Default None. Allows you to set how to rotate cameras in your video wall.

Interval: Selecting this rotation option will rotate cameras based on a specific duration
Motion: Selecting this rotation option will rotate cameras based on captured motion.

Note: You must have more cameras then layout selection to be able to use this.

Layout Default: Default 4. You can select up to a 4x4 grid (16 cameras) max on desktop.
<- or ->: These arrows allows you to cycle through the remaining cameras that are not shown on the video wall but are selected to display on the wall.
Full Screen: Allows you to view the video wall in full screen mode.

6) Save:

Once you have configured the video wall to your liking, click "Save" and this preset wall will be saved for you and everyone else for fast access.

Note: If another user tries to access this wall, but does not have access to all cameras (see role-based access for more info), they will only be able to view the cameras they have access to. If they do not have permission to any of the cameras, the entire video wall will not be displayed.

Note: All organizations contain an "All cameras" video wall which cannot be edited. Like the above, they will only see cameras they have access to.
Sharing a Video Wall
Once you have saved the video wall you created, you are then able to share it by clicking the share button at the top:

When the Sharing popup appears you can password protect, allow past footage viewing, and set an expiration on the stream.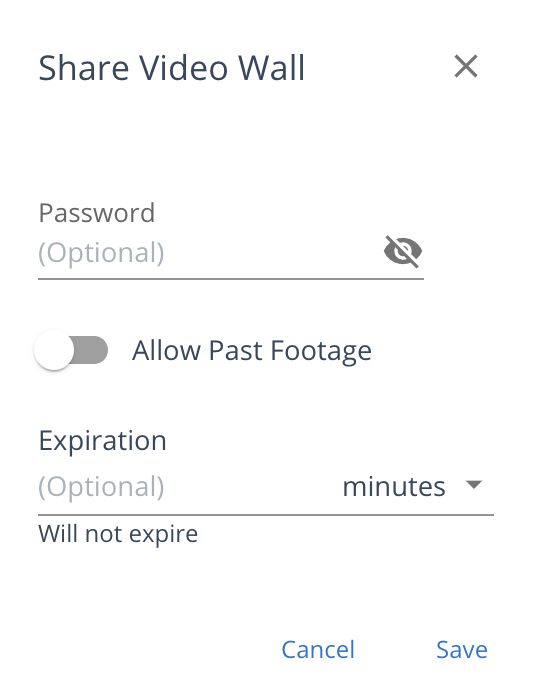 By clicking on the sharing button once more after the original sharing creating you can Copy the link, directly open it, or send the URL via email or text. You can also add an additional sharing stream by clicking the add another. To remove a stream simply click the red trash can next to the URL.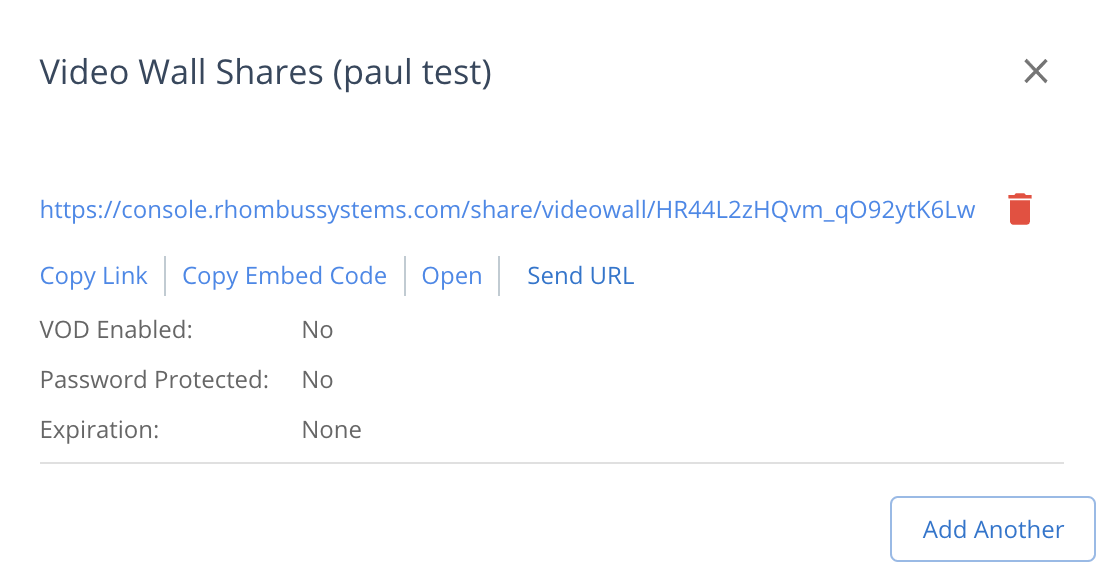 Video Wall Camera Limit
The maximum cameras viewable at one time is 16, but you can add as many cameras as you want to the Wall and they will automatically be rotated through as described above. The limitations are 20 - 30 cameras on one screen while viewing through an Apple TV. To learn more visit our article here.
If you have any further questions please reach out to our Rhombus Support at help@rhombus.com. If you would like to talk to a Rhombus Sales Representative please reach out to sales@rhombus.com.