Topics included in this article
A great part about the Rhombus solution is that we take care of all of the firmware updates including security patches, feature updates and more. The cameras are continually improving with firmware updates generally being released once per month.
You can manage when your cameras are updated by going to Settings -> Firmware Updates and selecting what time of day you want your cameras to update. The cameras will gradually update during that time period, and if for some reason they can't all finish during that time period they'll wait until the next opening.

Manually updating the firmware
To see which firmware a particular camera has and if it's up to date, navigate to that particular camera and scroll to the Camera Details & Settings. Click on 'More details'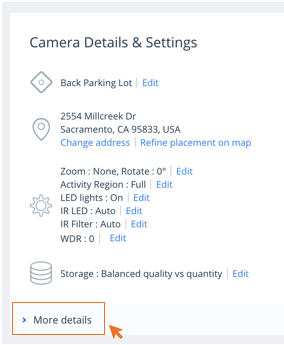 And if you have the correct privileges, it should you should see the option to Update Firmware