In this article, we will explore the intricacies of configuring access control doors to ensure a secure and efficient entry system. The process involves a series of steps that require careful consideration of hardware prerequisites and a systematic approach to door setup. Let's delve into the comprehensive workflow for establishing door access control.
Prerequisites
Before embarking on the access control door configuration journey, you must ensure the following prerequisites are met:
Hardware Installation: Essential hardware components like DC20, DR40/DR20, (or approved third party readers) and others must be properly installed.
Wiring: All necessary wires and cables should be in place to establish seamless connections.
Network Cabling: Ensure that your network cabling is set up correctly to enable communication with the access control system.
Rhombus Unit Installation: Once all essential wiring is complete, you can proceed to install and register Rhombus units. This includes the installation and registration of the DR20, DR40, DC20, DPI Sensor, and Request-To-Exit (REX) Sensor on the DC20 as needed.
Door Controller Settings - Adding a Door
Step 1: With the hardware and network cabling in place, you can commence the door setup process through the console. After registering the DC20, it will become visible in your "Door Controllers" settings page. Follow the path below to find the "Door Controllers".


Rhombus Web Console > Settings > Door Controllers > "Click on Door Controller name" 

Upon clicking the desired named Door Controller you will be taken to the DC20 digital layout page.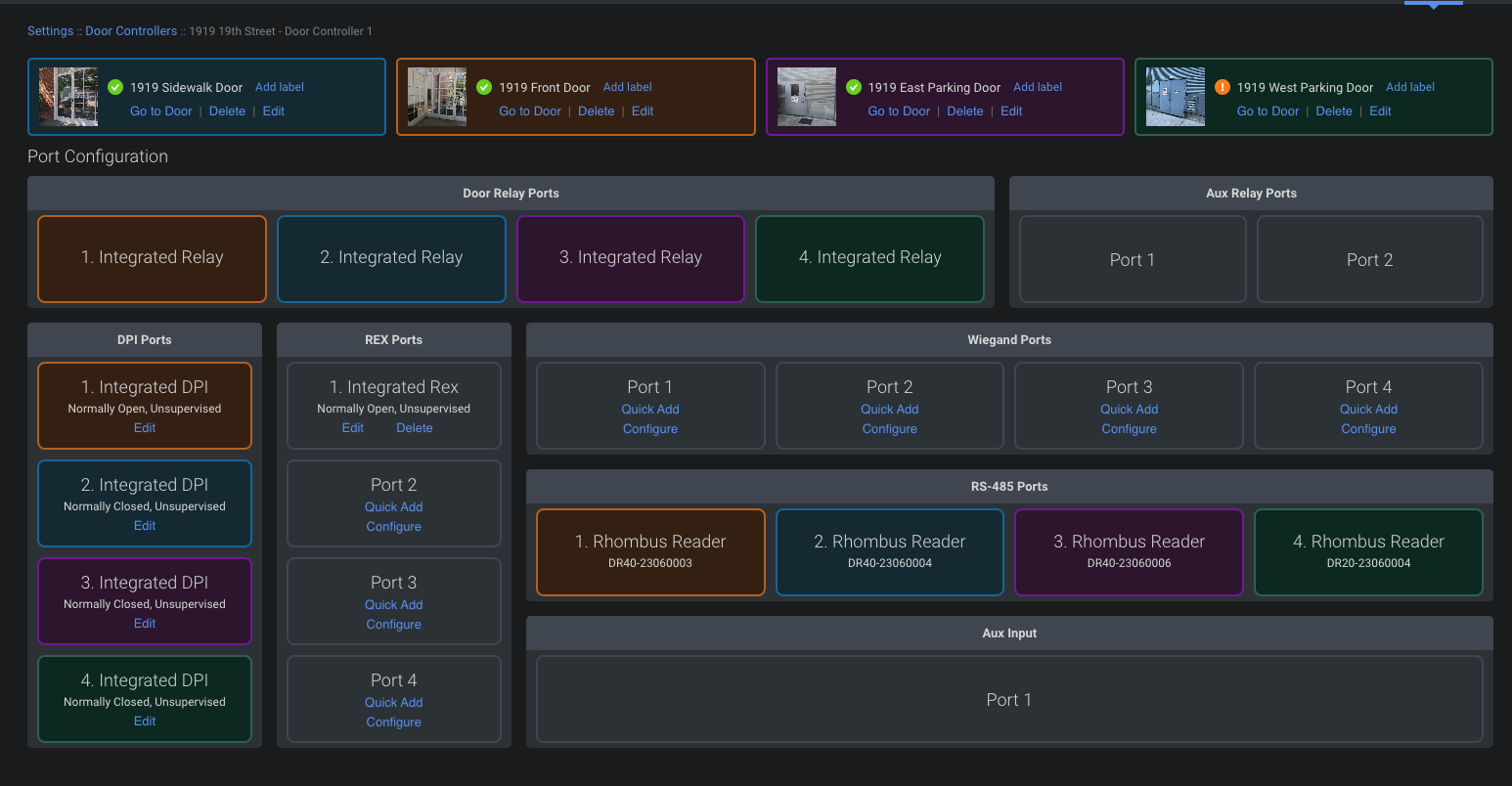 Step 2: Assuming that all wiring, network cabling, REX, and DPI sensors are correctly installed, you can proceed to associate ports within the console with their corresponding positions on the controller. This page coordinates to the hardware layout of the DC20. Please refer the DC20 Overview to see the hardware layout.

To create a door, initiate the process by selecting "Create Door."

This action will prompt you to name the door and select associated ports below.

Step 3: For "Door Relay Ports," choose "Quick Add" to assign the relay to the door you are creating.

Optional Step: You can follow this with "Quick Add" for DPI Ports.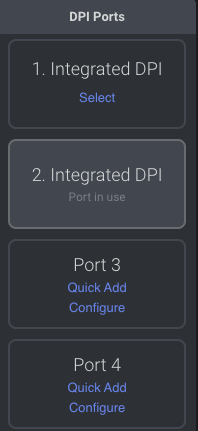 or "Configure" with additional information for normally open (NO), normally closed (NC), supervised, or unsupervised.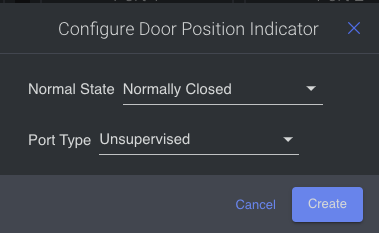 Optional Step: Similarly for REX Ports using "Quick Add" will associate the port to the door.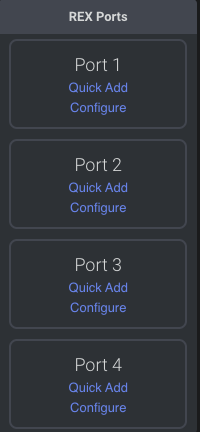 Clicking "Configure" will allow you to assign a port type of supervised or unsupervised. Or a port state of normally closed (NC) or normally open (NO).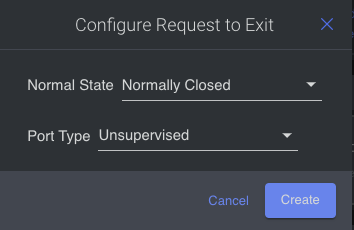 Step 4: RS-485 Ports, select "Quick Add" and follow the prompt to either configure a Rhombus Reader or a Third Party Reader.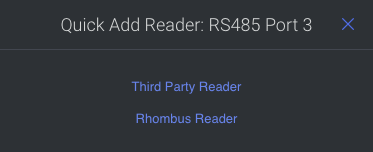 Upon completing the configuration, hover your mouse over the location, and the associated ports will be color-coordinated, ensuring easy manipulation.
Door Setup Through Door Controller Devices
Step 1: After ensuring the installation of hardware and network cabling, you can proceed to set up a door within the console. Start by navigating to "Devices > Access Control" and selecting "Add Door."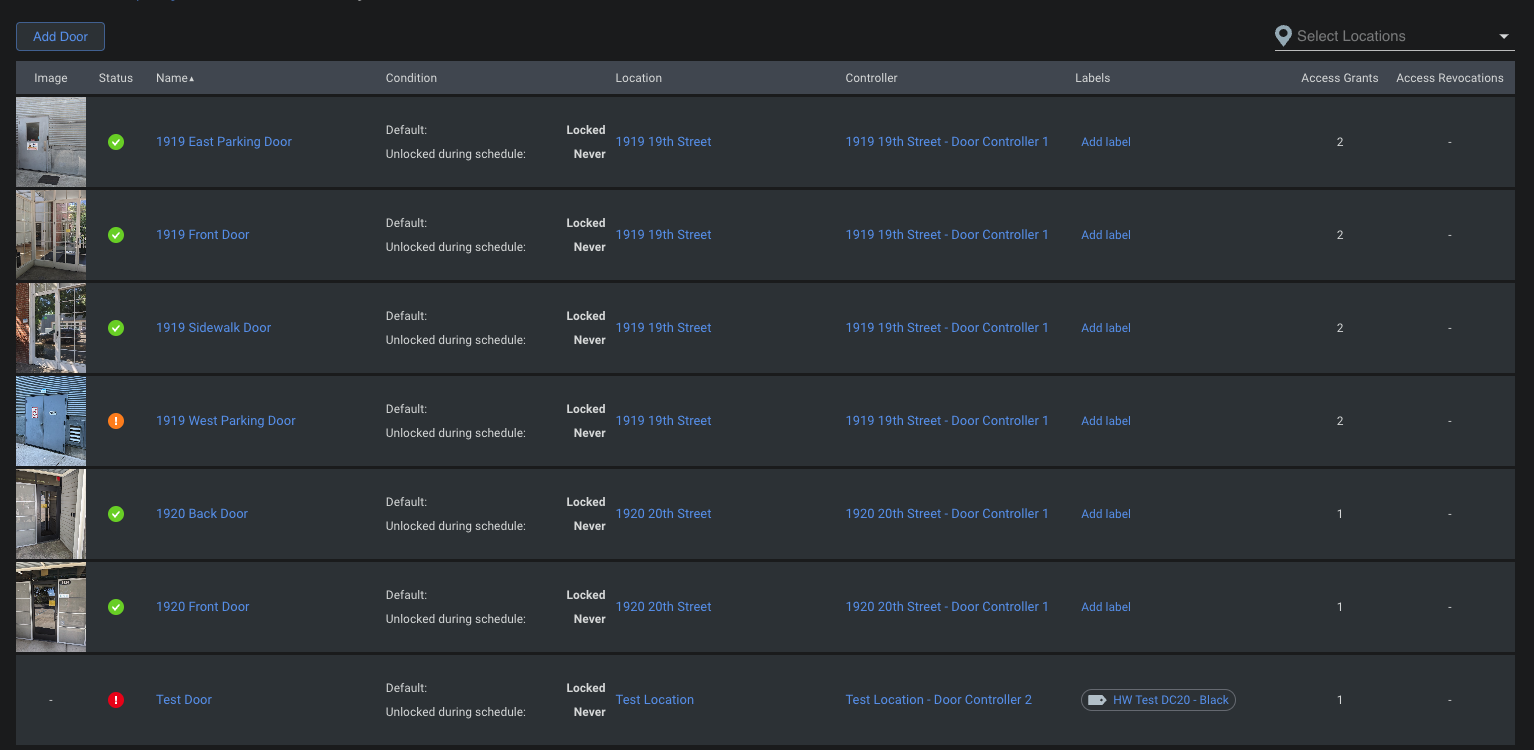 Selecting "Add Door" will open a window allowing you to choose your desired location.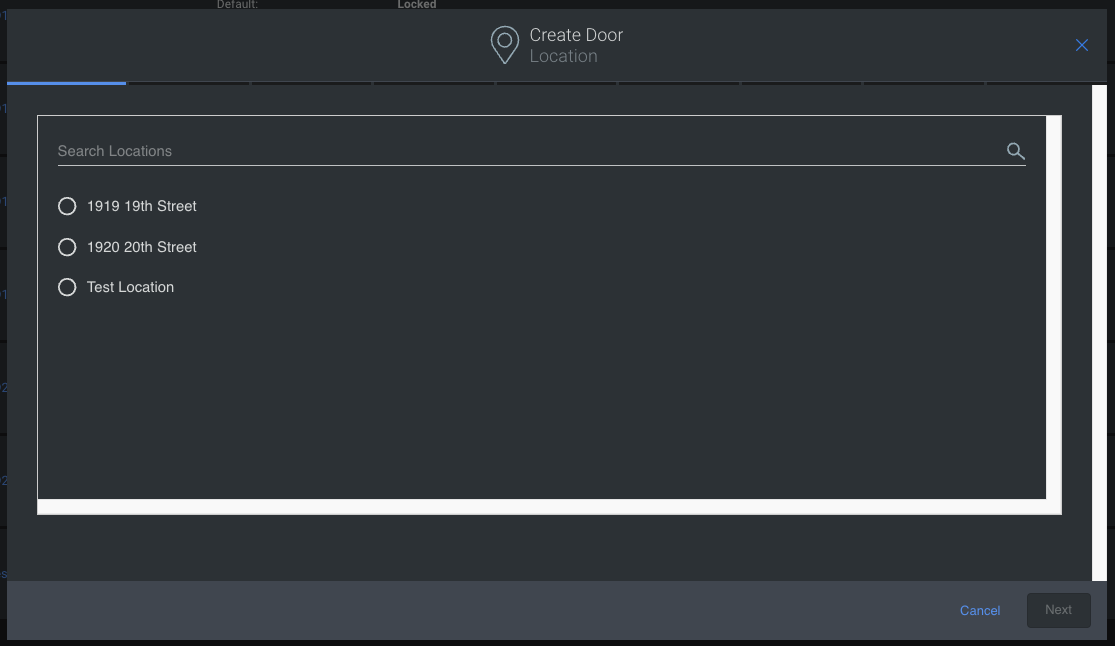 Step 2: Once a location is selected, all controllers associated with that location will appear. Pick the relevant controller and provide a name for the door you intend to create.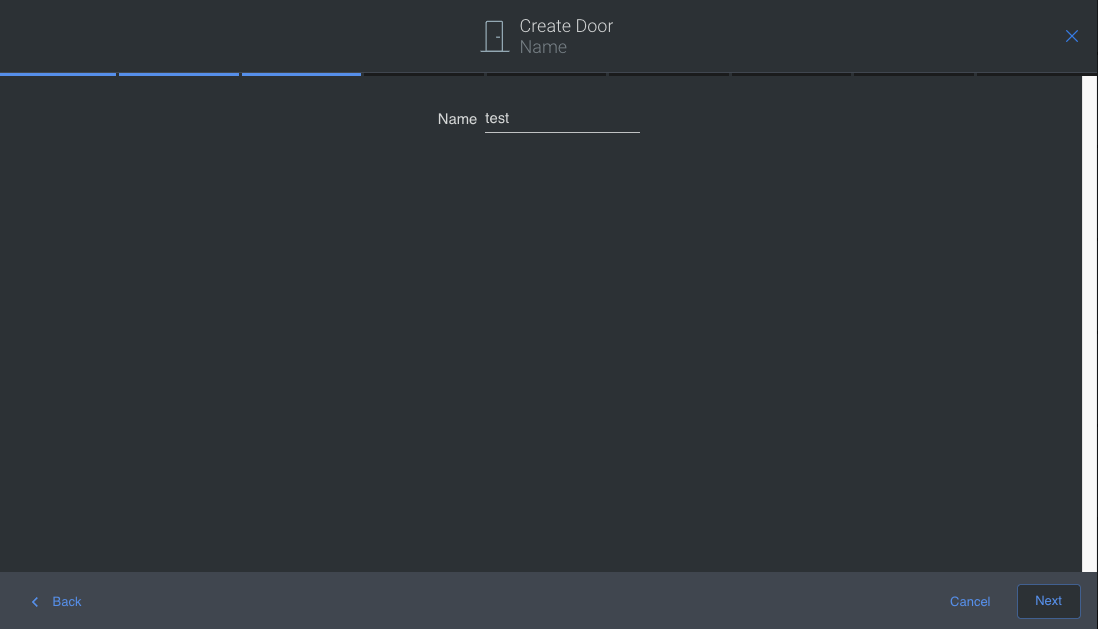 Step 3: After naming the door, click "Next" and explore the option to create door labels. Once done, click "Next" to progress to the step where you assign reader ports based on the type of readers installed, be it OSDP or Wiegand.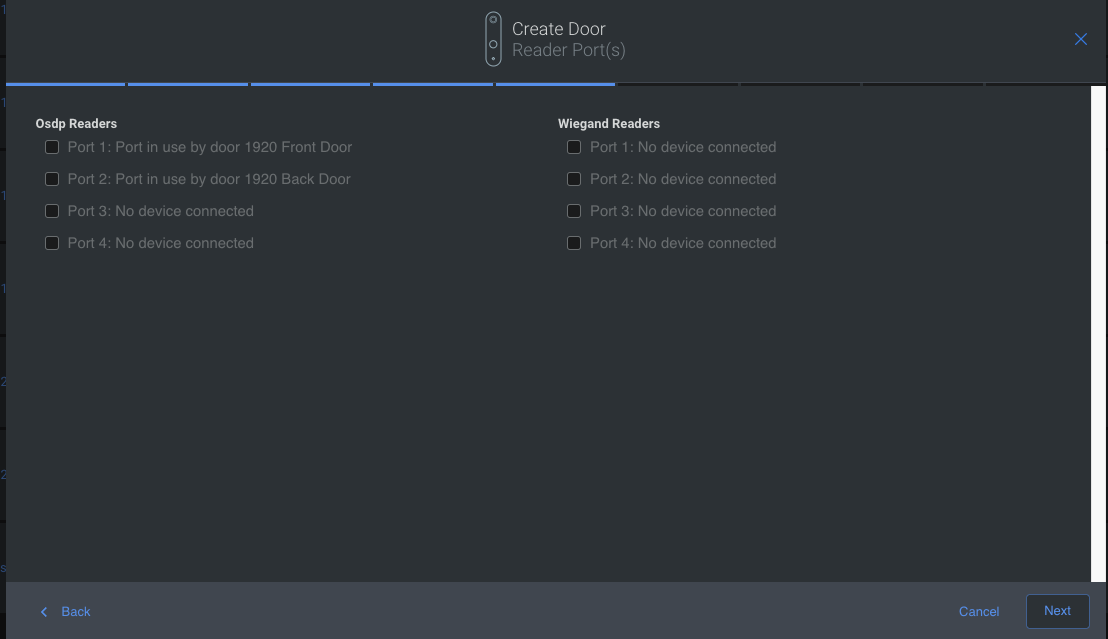 Step 4: Once the port is selected, click "Next" to choose the relays to associate. It's a best practice to configure the door controller on a 1:1 basis with ports for ease of use. This same workflow applies to DPI Ports and REX Ports.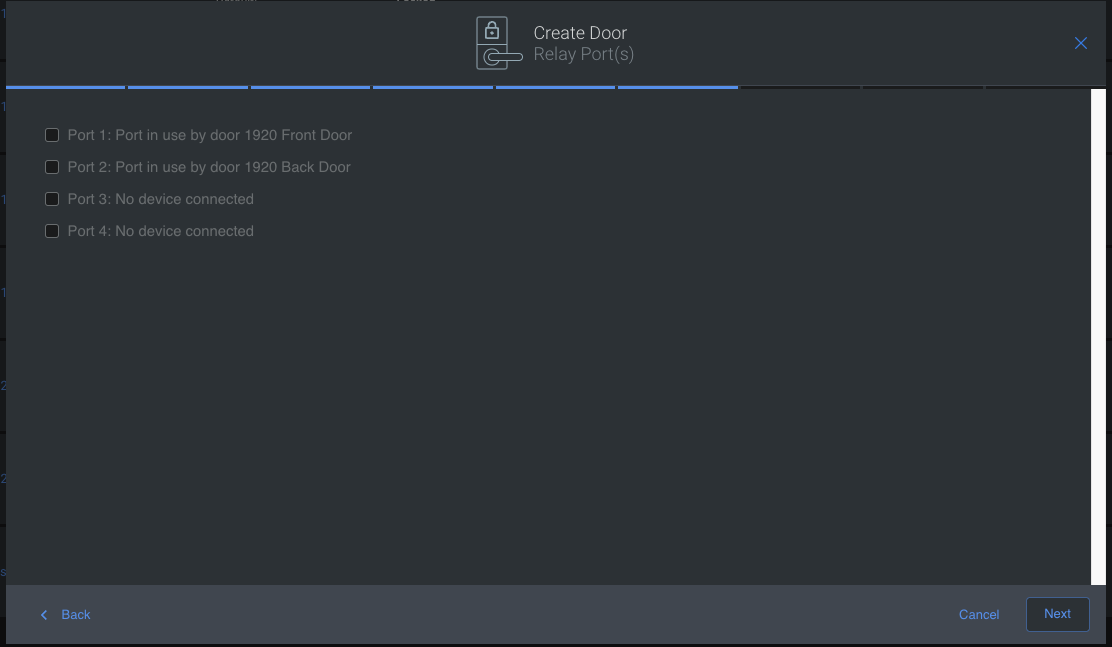 Step 5: Upon assigning the ports, click "Create," and your door will be successfully added.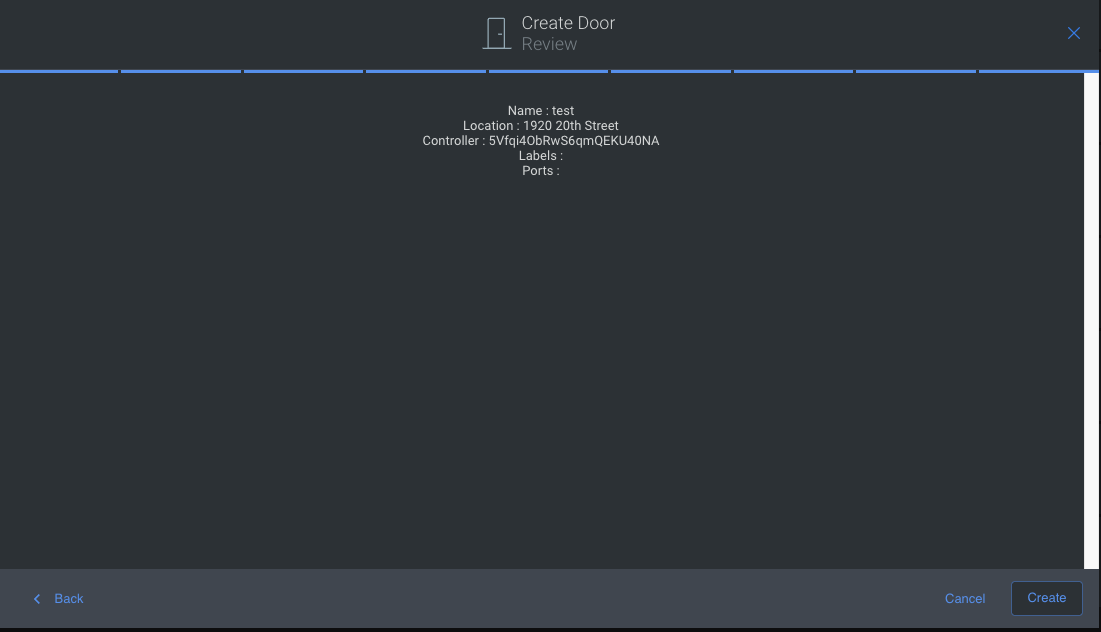 Helpful Links
Contact Support or Sales
Have more questions? Contact Rhombus Support at +1 (877) 746-6797 option 2 or support@rhombus.com.
Interested in learning more? Contact Rhombus Sales at +1 (877) 746-6797 option 1 or sales@rhombus.com.