In this article we will go over two different and reliable Access Control protocols, Weigand and OSDP.
Wiegand
Wiegand is a type of technology invented in the 1970s, designed for access control. It is a protocol of electronic access control as it uses magnetic fields to transmit data from the credential to the credential reader. It has one-way communication, it only communicates from the reader to the controller. Wiegand devices are widely used in security systems because of their reliability and durability.
OSDP
OSDP stands for Open Supervised Device Protocol. OSDP is a communication protocol that has been developed by the SIA ( Security Industry Association) with the goal of providing more secure access control communication. OSDP uses RS-485 cables which use a two-way wiring protocol. The ultimate purpose of OSDP is to link different access control devices (controllers, readers, and credentials). Rhombus Credential Readers, the DR20 and DR40 use OSDP.
OSDP is more secure than Wiegand because of its AES 128 bit encryption ( required for Federal Government applications)
OSDP supports two-way communication between the reader and controller
Wiegand has one-way communication, it is only reader to controller
OSDP requires less cable during installation, therefore it is cheaper
The DC20, the Rhombus Access Control controller, is compatible with both Wiegand and OSDP readers. The diagram below shows the ports available to wire either type of credential reader, OSDP ports are highlighted in the orange box, and Wiegand ports are in the yellow box: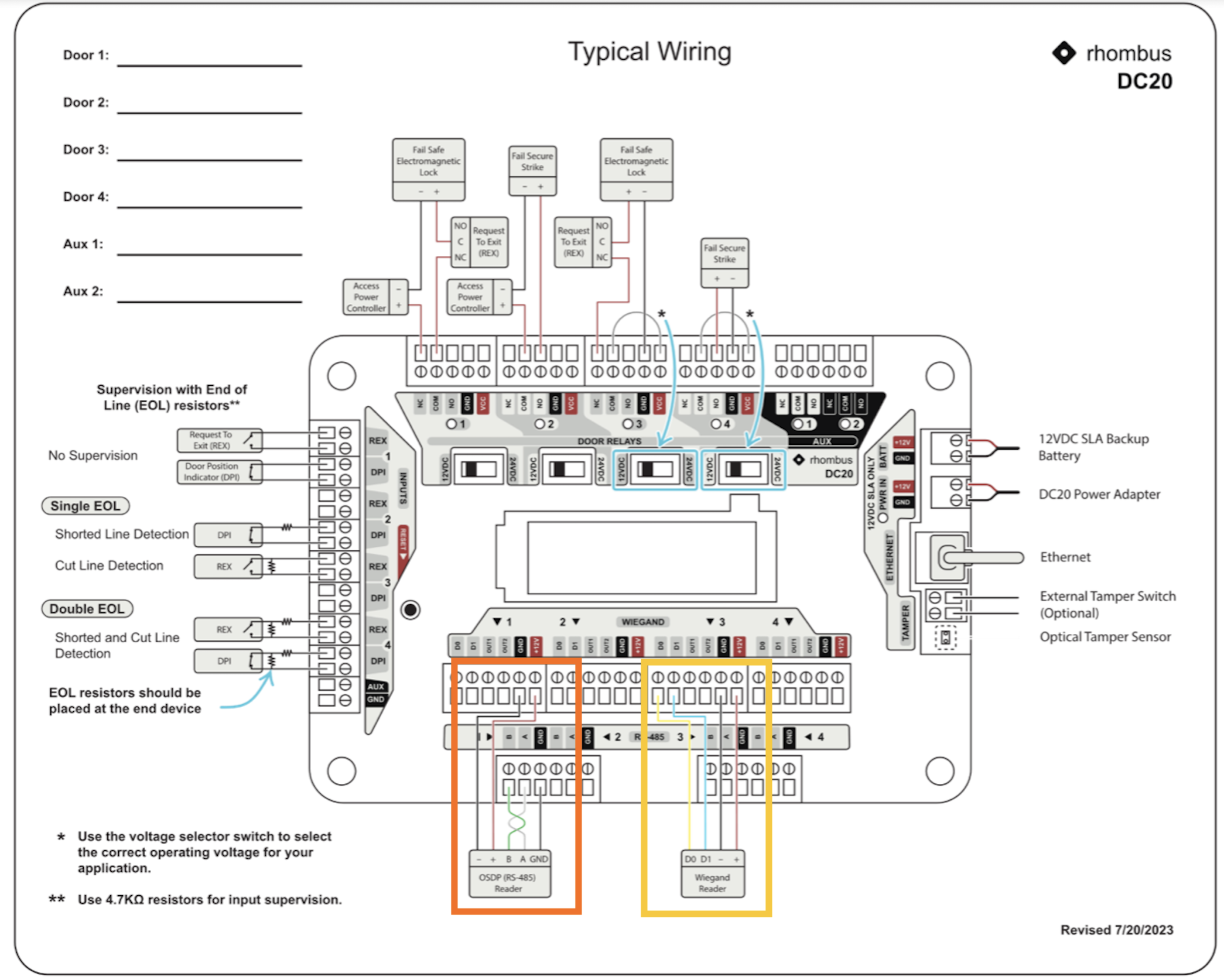 Contact Support or Sales
Have more questions? Contact Rhombus Support at +1 (877) 746-6797 option 2 or support@rhombus.com.
Interested in learning more? Contact Rhombus Sales at +1 (877) 746-6797 option 1 or sales@rhombus.com.